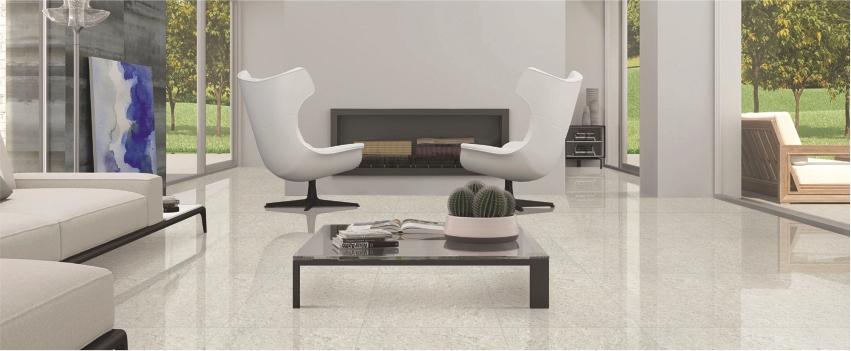 Classic. Timeless. Chic. Forever. Regal. What do these words remind you of? Yes, Audrey Hepburn, of course, but they also remind you of the colour white. White is as timeless and chic as it can get! When it comes to home improvement, modern white interiors speak of class to another level. It has remained a popular first choice for countless homeowners for decades now and it's still topping the charts of millennial homeowners too. The reason is, it gives you the required bright, minimal, and warm ambiance that you are looking for in your house. Having said that, to keep the space from screaming dull and boring, you need to balance it with a pop of colours here and there. But if you are going for the monastery vibe, then by all means, keep it simple, safe, white and clean! Here are a few stylish modern home ideas which you can incorporate with your all-white and pristine interiors.
Minimal Living Area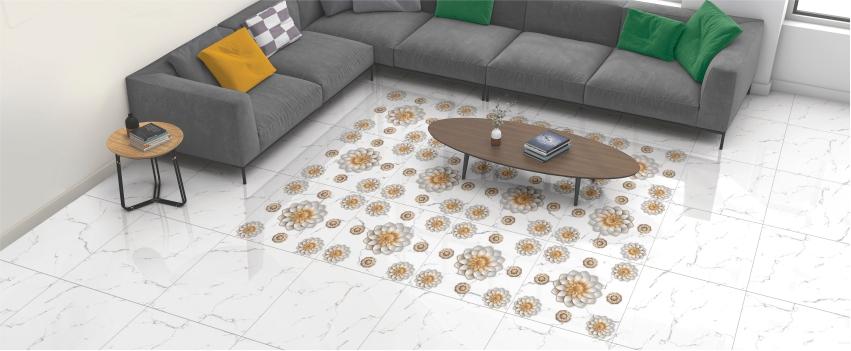 Living area is where you, your family and your friends get together and have a good time. It is also a space where white maintenance could be really difficult, after the kitchen, but if done right, can uplift your space like no other. Keep your living room soaked in white and yet allow it to break out in some light-toned colours. Let the sofa, lamps, centre table, rug and the cabins be in the shades of white. You could play with cushions and paintings when it comes to colour. This way, the theme of the house remains intact and adds a pop of colour where required. Dedicate a patch of your floor that would fit a rug to tiling it and use Orientbell Tiles's 3D tiles to make it stand out even more.
Stunning White Elevation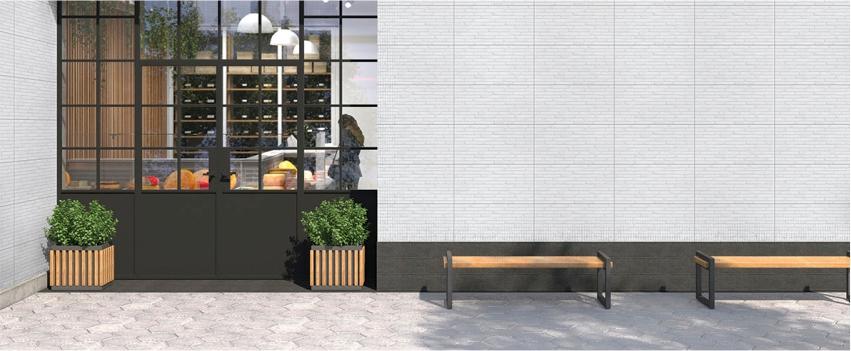 Create an impactful transitional area when it comes to your stairs or hallway by opting for tile detailing to enhance the space. Usually, passages, stairways, and your pantries are not so much accounted for or are left behind in budget cuts but that's where you can experiment without bringing down the whole look of the house. For the area near the staircase, dedicate a seating area to chill and rejuvenate. Instead of going for the usual marble or granite for the steps, you can go for wood tiles. It will not only give your stairs a contemporary look but also give you the feel of a log house near the lake. Orientbell Tiles's EHM Brick White is your best and safest bet when it comes to this option. Remodel your balcony area by going for white brick tiles from floor to wall and keeping a space cut out for the deity of your worship to give it a more spiritual environment.
Clean Dining Area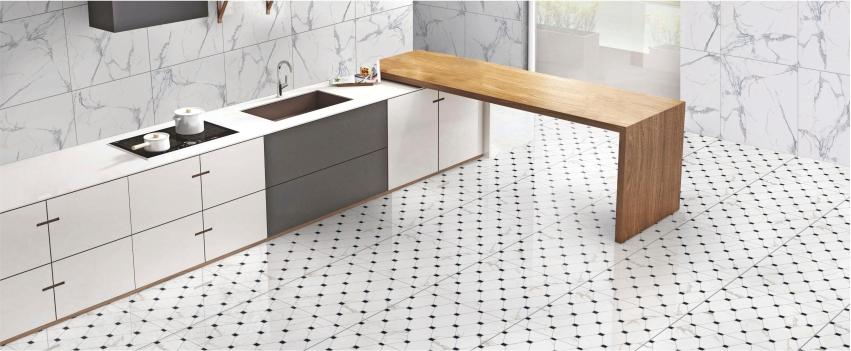 No matter what, the dining area and the kitchen should be equal parts welcoming and positive for that is where you grow both interpersonally and nutritionally. Bonding in the kitchens and dining areas have long been spoken for and cannot be stressed any further. Keep the flooring white while you can take a slight detour with your dining table or the bar counter. If you have an extended kitchen island to be used as a dining space, let the counter tops be something in colour. After all, you can easily mask and clean spills and stains until you clean them. Orientbell Tiles's kitchen tiles are not just durable but are germ-free and scratch-proof – both things you need to consider while going for a strong kitchen tile.
White Master Bedroom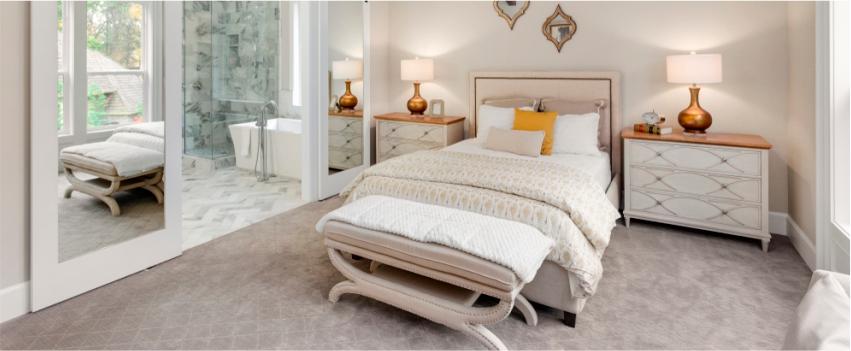 Your bedroom is where you rest and hit reset after a long day's work. So, it is really important for the space to be conducive to a relaxing environment. Otherwise, you will have a hard time decluttering your mind and switching off for the day or night. Keep the space as minimal as possible. Go for beds that have a sturdy headrest, a comforter that is cosy enough to lull you into sleep, side tables and curtains in shades of white that will deliver a pure and charming vibe. Again, you can add colour by going for colourful art pieces, planters or lamps but that's about it. You can also opt for a cyan blue chaise lounge placed right at the end of your bed and in front of the television so you have a space to sit and chat with your friends and family. That will keep your white bed off limits from staining and getting dirty.
Pristine Study Space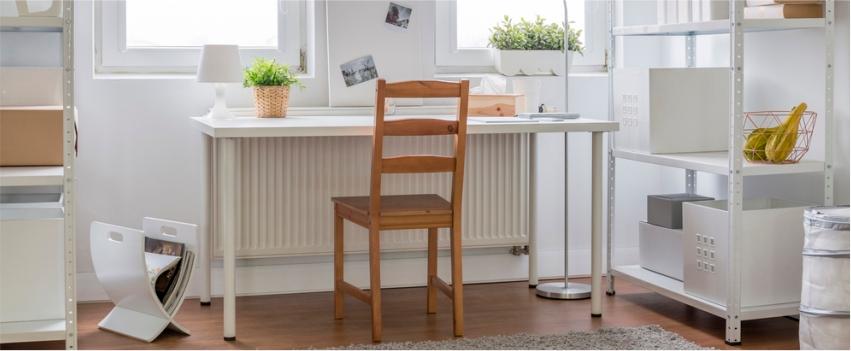 This is where you and your children's most productive hours are spent. Ensuring it is welcoming and vastu compliant when it comes to placement of furniture like table, desk and chairs is really important. The colour scheme can be slightly different here but without going too far away from the white interior, you can experiment with this space. Be it reading, working or finishing assignments, a wide white table will give you ample space to spread out your materials and give you enough area to work or study comfortably. For the night, you could go for either a wall-mounted lamp or a floor or table lamp to do the deed. Point to note: Make sure you have proper storage containers for stuff like pens, crayons, paints, etc, that can otherwise throw your white space into a messy pool of colours.
Building an effortless home in modern and chic shades of white AND maintaining it as well could be challenging. But if you find the smart and right ways to navigate in this minefield that a white house is, you could have yourself a gorgeous Georgian home you could call yours. Keeping majority of the space in white and natural hues, you can play with colours, tiles, one wall wallpapers and accents like planters, plants, lamps, lounges and even your floor mattresses to have a lazy evening in. Make your own space as comfy and beautiful as you want it to be. Spaces with children and pets need to take extra efforts in the upkeep of the house but nothing that can't be done or impossible to tick off from the list! So, go get yourself a beautiful white home that you have desired for since the time you can remember!