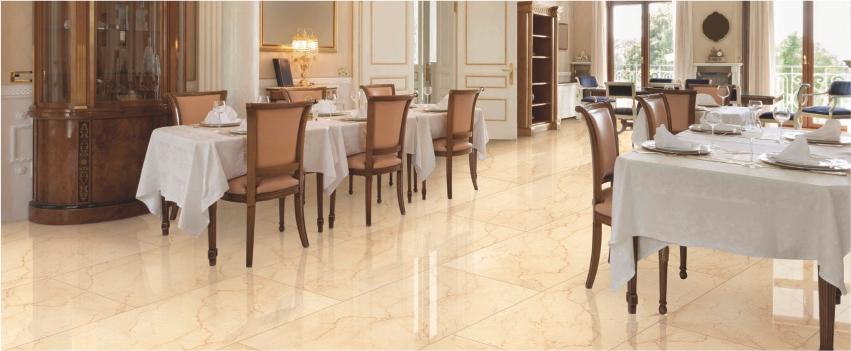 Marble has always been at the top of the chart when it comes to customer demand. The veined, smooth, beautiful stone has always been a primary choice in flooring and wall designs. 
However, using them in homes has been troublesome. As marble is a soft stone, it requires regular maintenance to remain in a good shape. White marble is extremely vulnerable to spots and stains, with water spots and yellow spots often found on them. No matter how much you maintain them, they are always prone to breakage and staining.
A breakthrough has been achieved by developing marble tiles, with extensive technological progress finally solving this difficulty. Marble tiles have become widely popular since their introduction for a good reason, as they provide the desired aesthetic of marble minus the hassle and hard work. Besides their pretty appearance, these tiles do not hold water, have resistance to traffic, and are very easy to clean. They have so many advantages that you can actually go and read more on the benefits of marble tiles over the slabs here.
In that light, let's look into some of the few ways to clean marble tiles.

Cleaning Matte Marble Tiles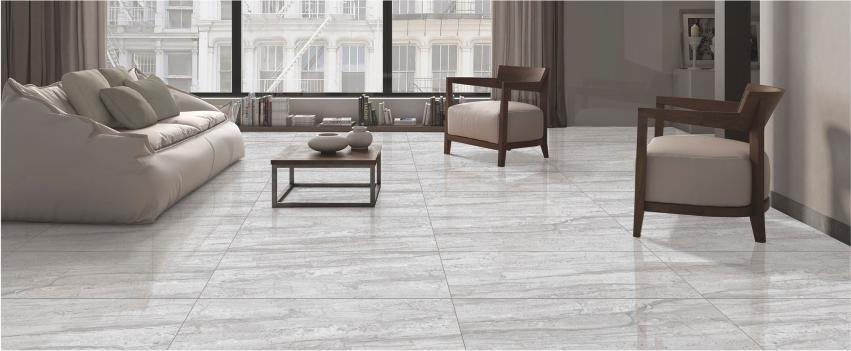 In general, matte tiles are easier to maintain as matte surfaces do not show streaks or fingerprints easily. They also provide a uniform feel and allow for better traction. Their strength makes them a good fit for areas seeing high traffic.
It is important to note that matte tiles are usually unglazed. This leads to more accumulation of dirt, although cleaning them is pretty simple. You can know more about their features and pros and cons here.
Mixing white vinegar and mild detergent with a solution of warm water is enough for daily cleaning of these tiles. If they are soiled, you can directly pour the solution on the tile surface and let it rest for 10 minutes. After that, it can gently be scrubbed with a mild scrubber having soft bristles. 
Textured matte tiles often require more attention, as the grooves are known for holding dirt. In these cases, you can use a mixture of lemon and borax on a soft-bristled brush and scrub gently. After washing the tile with clean water and letting it dry in the air, they make for a pretty beautiful appearance.
Cleaning Glossy Marble Tiles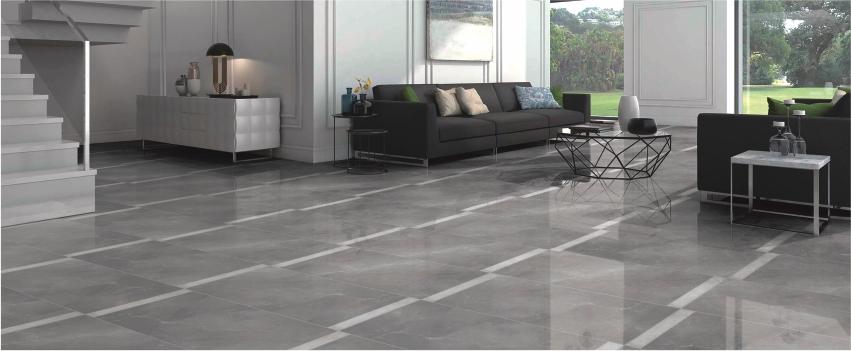 As glossy tiles are usually glazed and do not allow water to seep, they are easy to clean and maintain. Nevertheless, they can often show streak marks, fingerprints and water spots. This makes cleaning them regularly mandatory. The cleaning can be done in the following simple steps.
Use a mixture of warm water and detergent on a soft cloth, and gently rub it to remove daily build-up.

Spray vinegar to remove streaks, water spots and odour. Wipe it clean afterwards and let it air-dry. 

If the tile is soiled, pour warm water and a detergent mixture. Wait for 10 minutes, then scrub gently with a soft-bristled scrubbed wash with clean water. Again, let it dry afterwards. 
Cleaning Marble Tiles - Ceramic and Vitrified Tiles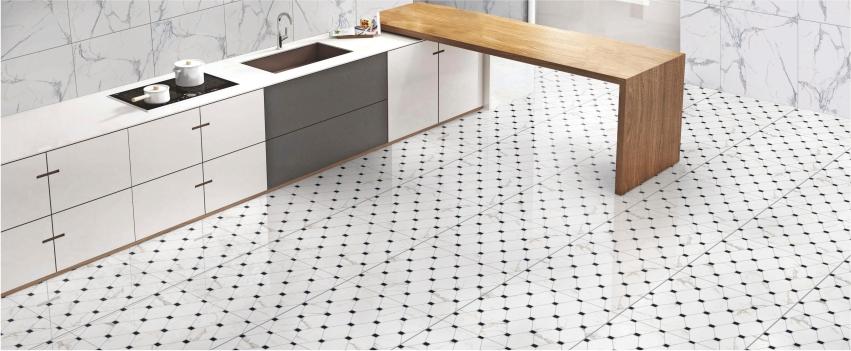 Here are some steps for making your cleaning process easier.
Take half a bucket of water, and add half a cup of vinegar and half a tablespoon of dish soap.

Contrary to popular belief,

vinegar doesn't damage ceramic or vitrified tiles.

Instead, it provides a practical and streak-free cleaning. 

Important:

Do not use too much soap as it may leave a soapy residue on the tile. This makes it appear dull.

Dip a washcloth in the above solution, and rub the tile surface for effective daily cleaning. 

To clean a particular spot, mix a tablespoon of vinegar, ammonia, and borax. This paste can then be applied to the spot and allowed to stay for 10 minutes. 

Wash the spot with a detergent and water solution, and then wash it off with clean water and let it air dry. 
The above-mentioned steps surely make your ceramic and vitrified tiles shine. However, in general, as these tiles are non-porous, they do not allow any absorption of stains and require minimal upkeep. 
How To Clean Marble Wall Tiles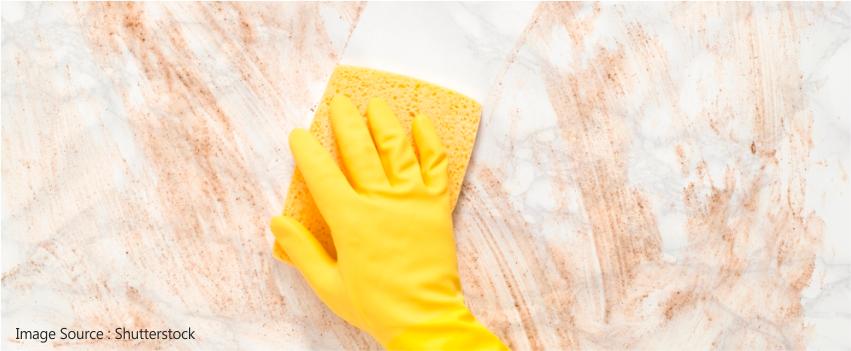 Without further ado, let's dive straight into the best methods for shining up your marble wall tiles.
Add two teaspoons of baking soda to little water and two tablespoons of vinegar, and pour it in a spray bottle. 

Squeeze half a lemon in the bottle, put the cap back on, and shake the bottle to dissolve everything.

Spray this mixture on the wall, and let it be there for 30 minutes. Simply scrub it with a soft sponge or an old washcloth afterwards. 
How To Clean Marble Floor Tiles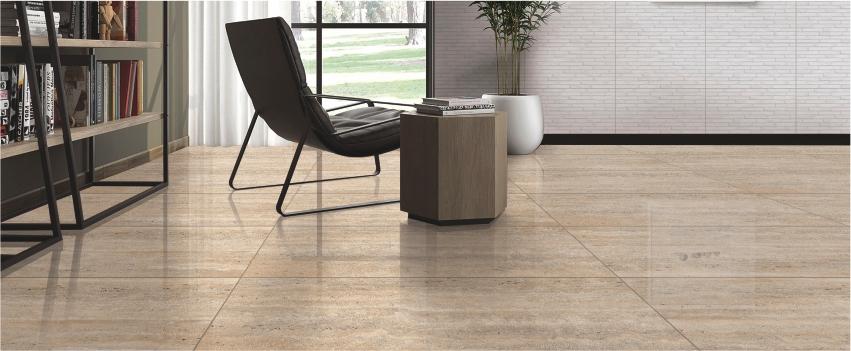 Floor tiles usually go through more traffic and foot stains than wall tiles. Thus, no matter how strong they are, they require daily upkeep to preserve their gloss and beauty. 
Before starting with the mopping, it is recommended to vacuum or sweep the floors. This removes any loose dirt, sand, or debris, which actually become muddy and dirtier if mixed with water.

After vacuuming, mix half a bucket of water, mild detergent, vinegar and any disinfectant of your choice. 

Dip a mopping cloth in the solution and gently rub the tile surface. 

Note

: Do not allow any foot traffic while cleaning to minimize dirt accumulation. 

After mopping, let the solution sit for 10 minutes. You can then wash the tiles off with clean water and mop and let it become dry in the air.
Cleaning Marble Tiles In Kitchen And Bathroom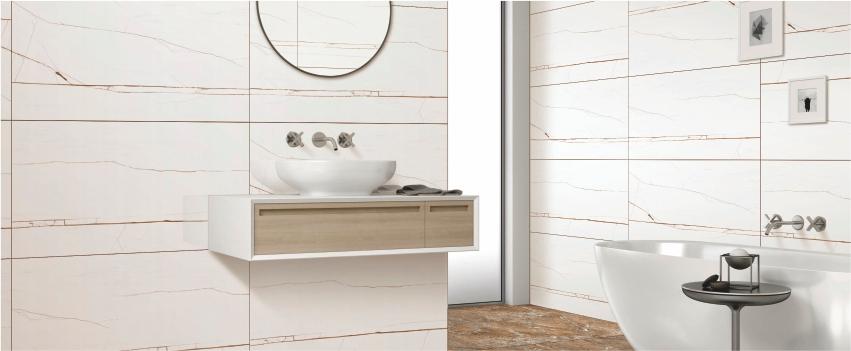 The kitchen and bathroom go through the heaviest foot traffic, making them prone to spots, stains, and spillage. However, as their requirements are different, cleaning marble tiles in the kitchen and bathroom requires different processes. This is especially evident in bathroom tiles, which require anti-slip and germ-free qualities with so much moisture around them.
Steps For The Kitchen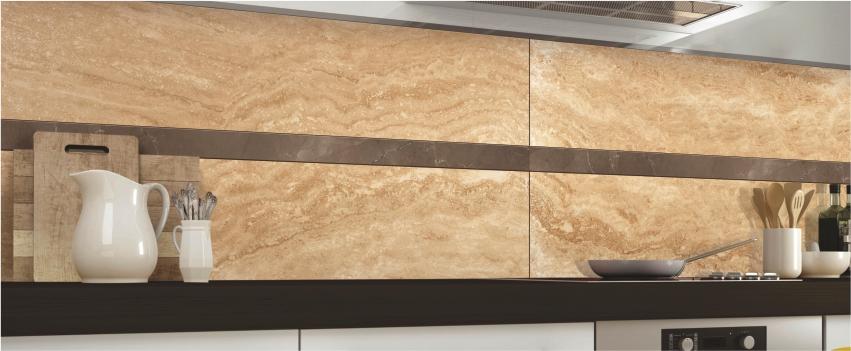 Use a mixture of warm water, detergent and disinfectant on a soft cloth. Gently rub it to remove the build-up and effectively sanitize. 

Rub the walls with soapy water and a sponge to remove grease and grime. 

In case of any spillage, do not let it sit

. Instead, it's best if you clean it immediately. You are already at an advantage here, as these tiles do not hold stains and are relatively easy to clean. 

Clean the spillage with a mop and pour soap water on the spot. After 10 minutes, you can then wash the area with clean water and let it dry. 

Clean the wet areas in the kitchen with an effective detergent, as it is more prone to water spots.

Clean the counters and backsplash with the above mixture daily to prevent any accumulation of dirt. 
For The Bathroom
Mix ½ cup each baking soda and lemon juice into ½ bucket of warm water.

Dip a clean washcloth and scrub the walls and floor surfaces for efficient cleaning.

Wash the tiles off with clean water and let them air dry. 

To get rid of hard water stains, combine equal parts of vinegar and water and spray on the surface.

As a precaution, never let water sit on the floor as it causes water spots. 
Cleaning Marble Tiles In Living And Commercial Spaces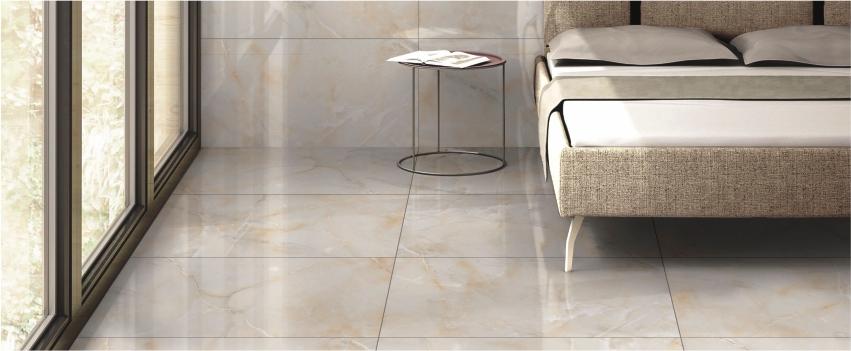 Marble tiles in living and commercial spaces can be maintained with a little bit of daily care, as these spaces are not as prone to stains and spillage as the kitchen and bathroom. For effectively cleaning them, you can adhere to the following tips
Add dish soap and vinegar (half a tablespoon and cup respectively) to half a bucket of water. 

Gently wipe the walls and floors with a clean washcloth dipped in the above mixture.

Wipe the tiles clean next with fresh water and washcloth, and leave it for some time for drying
Cleaning Grout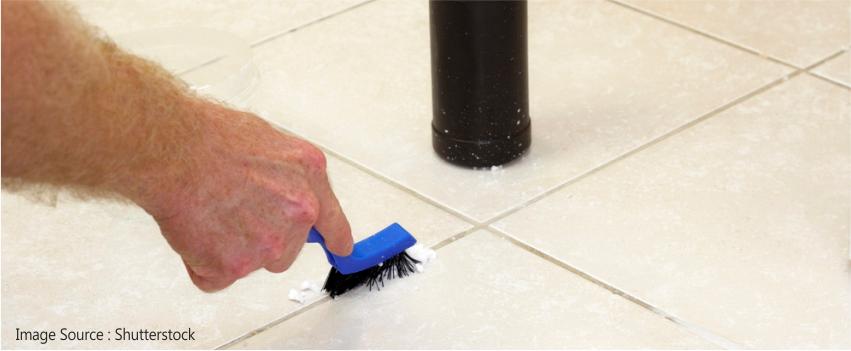 For a refresher, the thin line between the tiles is called grout. It is made of water, cement, and sand. Due to the materials used, grout is porous and is often more vulnerable to grease and dirt than the tile itself. Thus, while they are often ignored, cleaning grouts is absolutely necessary as dirty and soiled grouts can spoil the whole appeal of the tiles. 
A few tips for cleaning grout have been mentioned below. 
A 1:1 mixture of soap and water is enough to clean the grouts on a regular basis. 

Vinegar works as an excellent cleaning agent for odourless, streak-free tiles. 

However, if the grout has not been cleaned for a long time, you can use a 1:1:1 mixture of hydrogen peroxide, lemon juice and vinegar. Simply scrub it in between the tiles with a toothbrush. After leaving it intact for 30 minutes, you can wash it off for fresh and clean grout. 
Quick Tip: Cleaning the floor tiles after the wall tiles are beneficial, as all the dirt from the latter can accumulate on the floor. 
Tips To Keep Your Marble Tiles Clean And Shiny
Do not ignore spots; clean them immediately on notice.

Use doormats to prevent outdoor dust from getting tracked to your home. 

Keep area rugs in high traffic areas to prevent scratching or dulling of tiles. 

Give them a deep clean every month to restore their sheen. 

Ensure that the often-neglected grout is clean. 
To sum up, wear and tear are inevitable even in tiles requiring minimal maintenance. However, if you maintain them regularly, tiles can last a lifetime and retain their beautiful aesthetic. 
You can let us know what you would like to read about in our next blog through comments. We look forward to your feedback and encouragement!