27 Sep 2022, Read Time : 5 Min
3 Best Entryways Tile Ideas For Commercial Spaces
You get only one chance to make a first impression, so you must make sure it is a good one. It is not just applied to you but also to your spaces.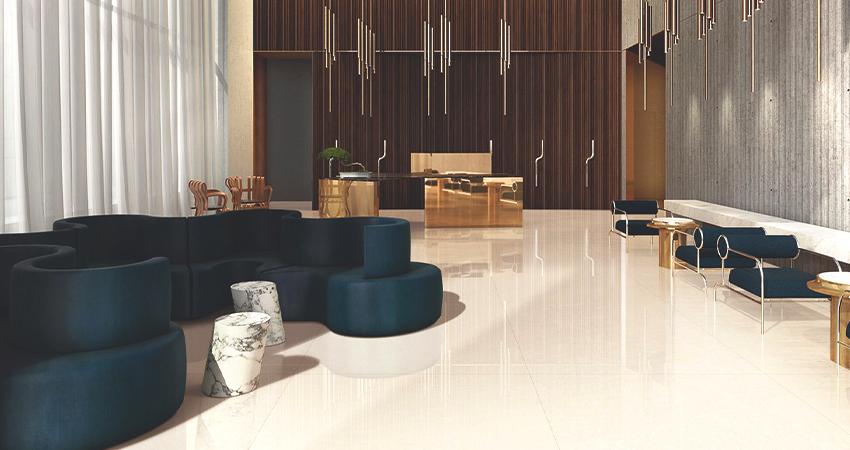 Do we not judge buildings by their outer appearance? More often than not, the entrance sets the tone of space – whether it is the lobby area in a hotel, an atrium of a mall, or the waiting area in a restaurant and a well-designed foyer is an excellent way to wow your guests and create a great first impression.
But before you go all out and start buying accessories and furniture pieces to spruce up the space, it is essential that you first create the perfect backdrop with the correct tiles. Your floor and wall tiles can not only provide functional assistance but can also have a significant impact on the aesthetic of the space.
When it comes to entryways, the bigger you go, the better your space will look. Here are some tile ideas you can use to create a unique space that makes people go wow!
Marble Tiles
The striking beige marble floor tiles offer a touch of grandeur to the lobby area, exuding a luxurious vibe.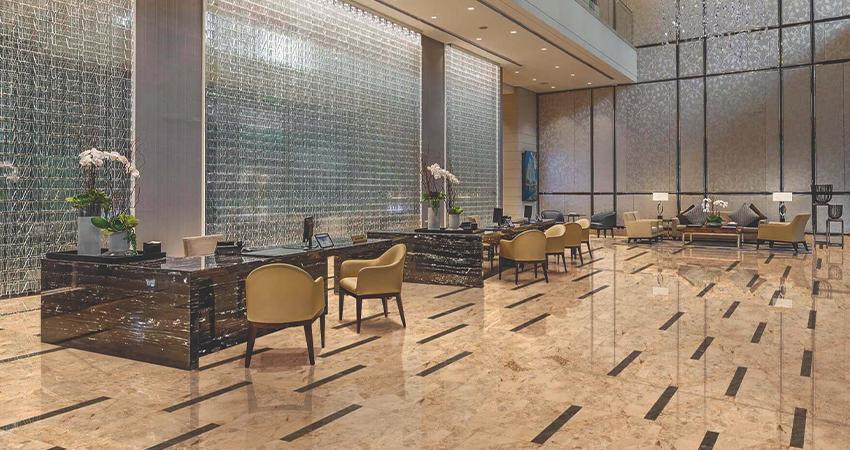 When choosing the material for the entryway, marble is an often preferred choice – especially while decorating the lobbies of hotels and office buildings. Marble exudes an aura of luxury and royalty and can give an upscale vibe to any interior.
Which Is Better: Marble Slab Or Marble Tile? Click here to know!
Suppose you wish to give your space that oomph of marble, but at a pocket-friendly price, consider opting for marble look tiles. Affordable, striking, and easy to clean and maintain, these tiles are the perfect alternative to natural marble.
But natural marble is expensive and high maintenance – two factors that can be off-putting for people on a tighter budget.
Available in various colours, designs, shapes, sizes, and finishes, these marble tiles can help you elevate the look of your entryway effortlessly. And with the number of options available, you will easily find a marble tile that works with your colour and design scheme.
 The veined surface of these pure white marble tiles has a striking effect on this lobby area. It also adds to making the space feel bigger and brighter.
Granite Tiles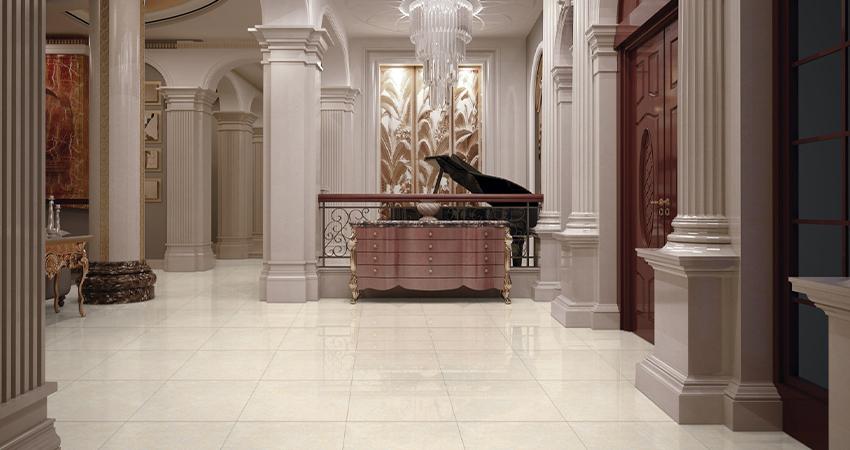 The elegance that the ivory granite tile imparts to this lobby area is unparalleled.
Granite has always been a popular flooring choice due to its durability and exquisiteness. While granite is not very high maintenance and is extremely hard-wearing as it is one of the hardest minerals on Earth, it does require yearly sealing to ensure that the stone remains non-porous. Granite stone is also comparatively expensive, which can be prohibitive for those looking to decorate on a budget.
Granite look tiles are a great alternative to natural granite since they are more pocket friendly and durable and require minimal maintenance. These factors are significant for a space like an entryway that sees high footfall.
Since granite tiles are simply ceramic, porcelain, or vitrified tiles printed with a granite design on the surface, they are available in various colours. They have a consistent pattern, giving your space a seamless and uniform look.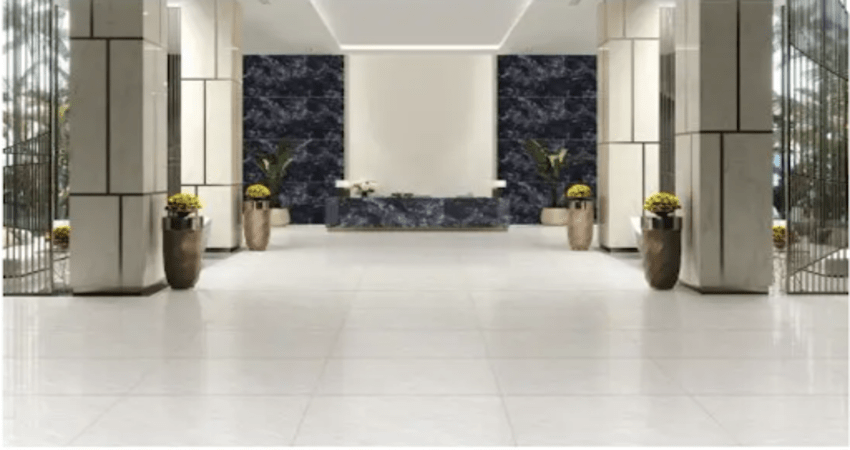 The beautiful glossy white granite tile adds to the beauty of the space and gives it a stylish and distinguished look.
Wood Tiles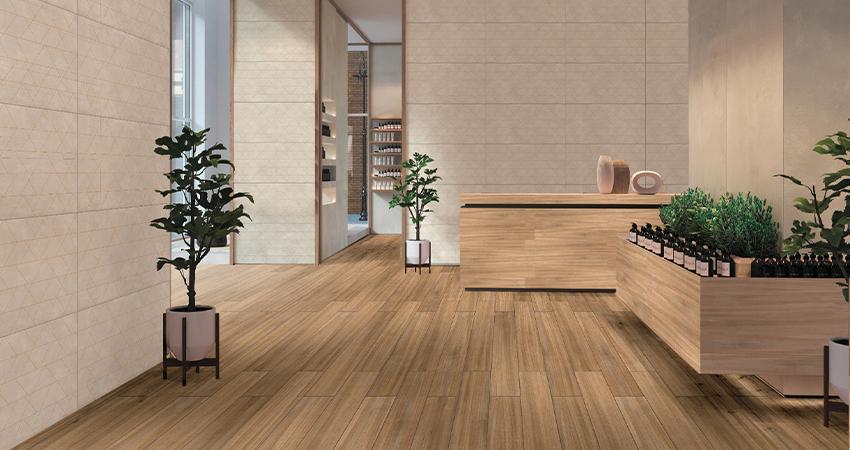 The consistent use of wood on the floor, in the form of the wood look floor tiles, and on the desk gives the space a seamless look. The addition of the plants gives the lobby a natural touch.
Hardwood has a unique look that can be used in traditional and modern settings. Apart from being stunning to look at, hardwood works with various decorating styles. From light wood that exudes a Scandinavian feel to darker hues of wood that gives a classic, rustic feel, wood works with almost every style.
While the advantages of using wood in your space are far too many, it comes with a host of disadvantages too. Natural wood floors and wall panels can easily get scratched and damaged by moisture, especially in humid areas.
Hardwood Or Wood Tile? Read To Know Which One Is Better For Your Space.
If you live in a humid climate or have a high-traffic space, the thought of having scratched-up wood in the entryway makes you cringe, but you love the wood look; you can opt for wood-look tiles.
Durable and easy to clean and maintain, these tiles also have low porosity and are not easily damaged due to water – making them a great choice for high-traffic entryways. Wood look tiles are available in a variety of traditional wood designs, such as oak, chestnut, mahogany, cedar, pine, teak and fusion designs, such as marble + wood, floral + wood, geometric + wood, and even mosaic + wood to give your space a unique look.
Add Colour to Your Floor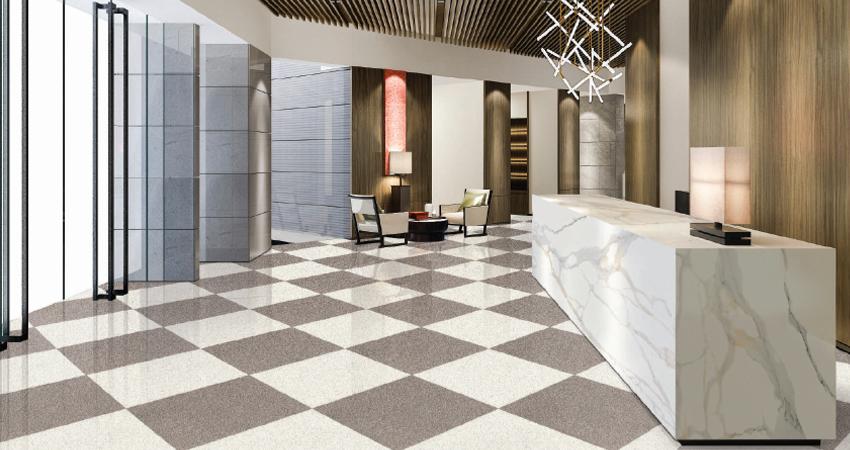 Mixing and matching different tiles can give your space depth and character. 
The entryway of a space has a huge role in setting the mood and tone for a space and can also help create the first impression – a trait that is very important in commercial spaces since a great entrance will help draw more clients. Using the right material is crucial in creating the proper entryway, and tiles are one such durable and attractive choice.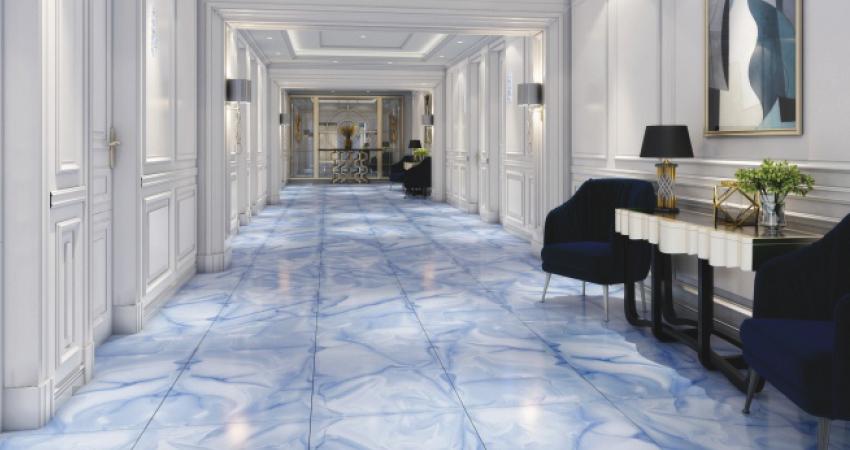 Your entryway is the first and last room both you and your guests see, so creating a memorable and inspirational space. 
Along with tiles, adding cozy furniture pieces and accessories like attractive chandeliers, quirky pieces of art, and vases with fresh or artificial flowers can make the same seem more inviting.
How Can Orientbell Tiles Help You?
If you are unsure of which tiles will look best for your entry/lobby area, then click a picture of the floor and upload it on TriaLook. You can try every possible tile until you find the tile that works best in your space.
Still confused? Why not opt for TruLook, where our in-house experts will provide you with a 3D model of your space with the tiles of your choice installed in different patterns, making tile selection a breeze? What are you waiting for? The world of tiles awaits you!