02 Jan 2023, Read Time : 5 Min
Bathroom Tile Trends You'll See In 2023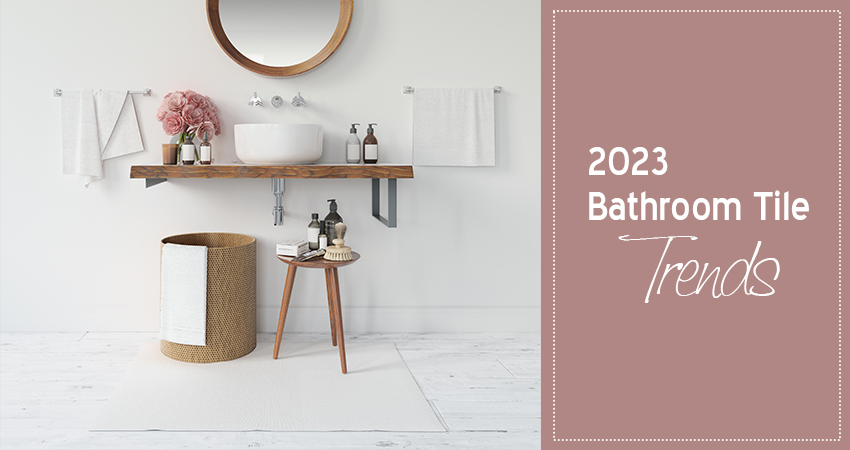 Are you planning to give your bathroom a makeover? Or are you looking forward to seeing your bathroom designed with the latest trends and colours?
Undoubtedly, the bathroom is among the most used spaces in any house. A spacious space can give you a little boost in the mornings. Tiles with olive green, blue, grey, beige, and white colours are quite trending. You can also get some inspiration from our Blue Tile Bathroom Ideas. 
These days homeowners also prefer tiles with size 2×4 for their stylish bathrooms. It's because using large format tiles results in a lesser number of grout lines and this results in less time you need to spend on cleaning. Grout cleaning is always a challenge, especially in spaces like bathrooms that are constantly exposed to water and soap. With use, tiles tend to get mildewed or stained if not cleaned regularly. Deep cleaning grout lines has always been a tedious affair, but this is not true for large format tiles.
Check out some amazing cleaning hacks to clean & restore the shine on bathroom tiles. 
It doesn't matter where you install large format tiles – in residential spaces or commercial spaces, indoors or outdoors – you can easily clean the grout lines with minimal time, effort and product.
So, read on for some inspiration, as the upcoming bathroom trends of 2023 promise to have enduring appeal!   
While choosing tiles for your bathroom, it's important to look out for materials, designs, and tile orientations which are trendy yet still look timeless and classic for years to come.
Let's take a look at the new bathroom ideas you can steal for 2023:
GVT Tiles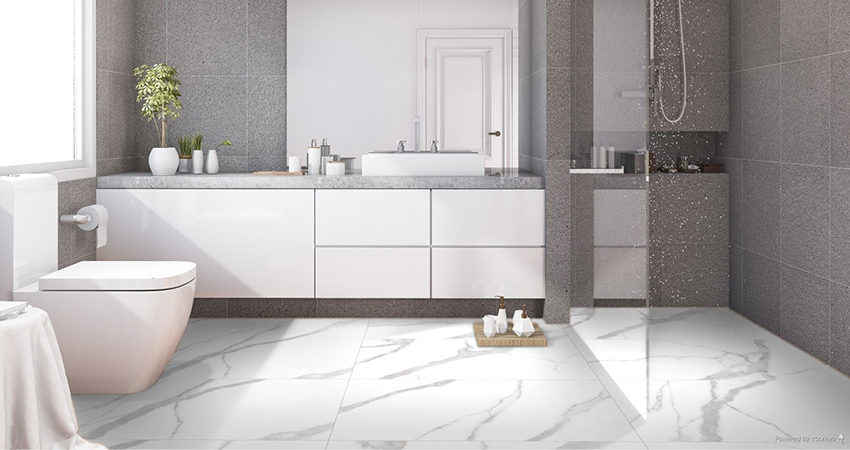 Glazed Vitrified Tiles (GVT) or Digital GVT tiles score high when it comes to aesthetics as well as functionality. Moreover, vitrified tiles are quite well-known for their durability. GVT tiles designs are available in marble, stone, wooden and multiple designer patterns, ensuring that you can find a tile that works well with your design and colour scheme.
Anti-Skid Tiles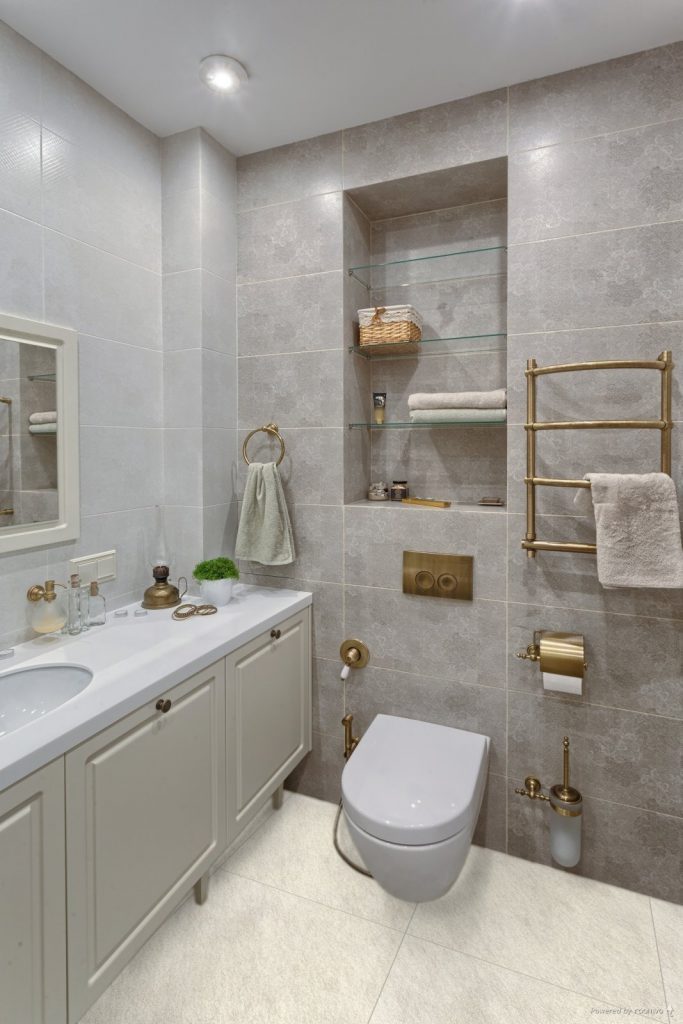 Another popular tile which you can choose to give your bathroom a new look is anti-skid tile. These tiles have a layer of coating applied over the surface that makes them less slippery to walk on. This feature makes it popular among buyers, especially for areas more prone to moisture, such as bathrooms. Anti-skid tiles are a great choice for homes with the elderly, children or pets.
One of the advantages of these tiles is that they have an anti-slip floor coating to keep friction high even when the surface is wet and soapy. These tiles are well-suited for outdoor purposes as well because they are resistant to graze and blemish. They are available in a variety of colours, including brown, white, off-white, and cream and in different textures and sizes.
Mosaic Tiles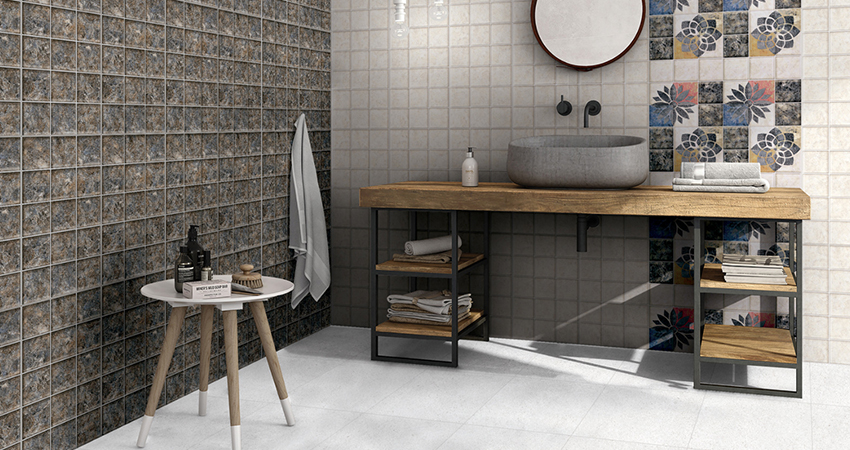 For creating modern decor styles, mosaic tiles with abstract patterns work wonders. In 2023, look for complex and interesting bathroom floors, like mosaics in striking patterns and colours, to have a great impact on the overall look of your bathroom. Mosaic tiles work well for small as well as spacious bathrooms – making them a universal trend. Ditch the regular blue-green mosaics in the bathroom and opt for a different colour, such a Spink, for a unique twist on this trend.
Glossy Tiles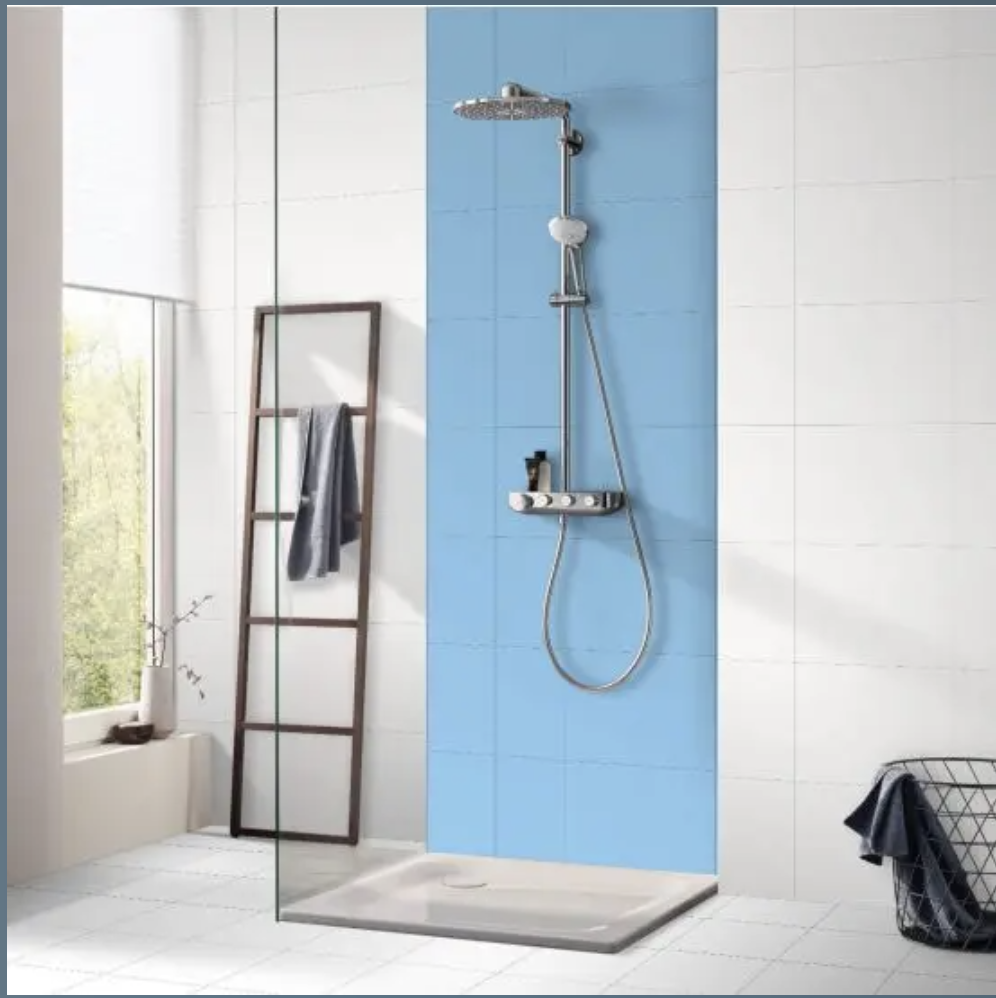 Glossy tiles can elevate your bathroom's style quotient and add a dash of glamour to any space. Since these tiles reflect maximum light, they can make your bathroom look and feel bigger and more spacious. Opt for glossy tiles in soft colours to magnify this effect. These tiles are also very easy to clean and eliminate the need for high maintenance.
Terrazzo Floors & Walls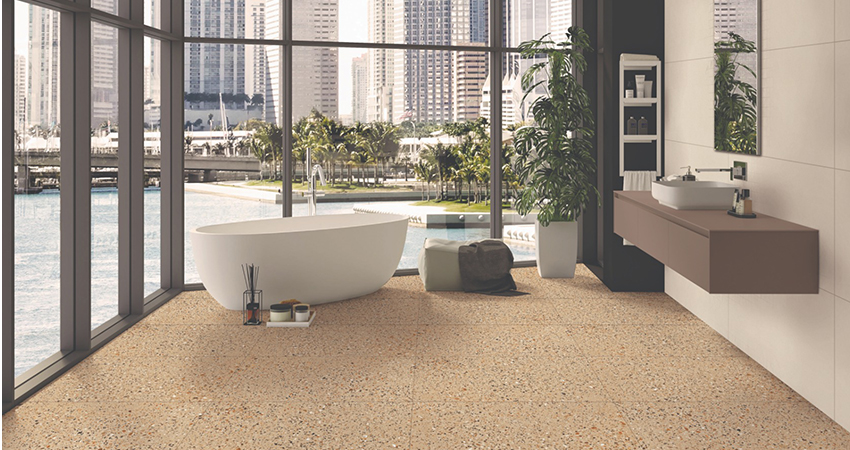 Terrazzo tiles are making a comeback, and if you are looking for something unique and equally attractive, then Terrazzo is among the top bathroom tile trends of 2023. Apart from being available in almost every colour, its signature stone specks come in different sizes.
Geometric Tiles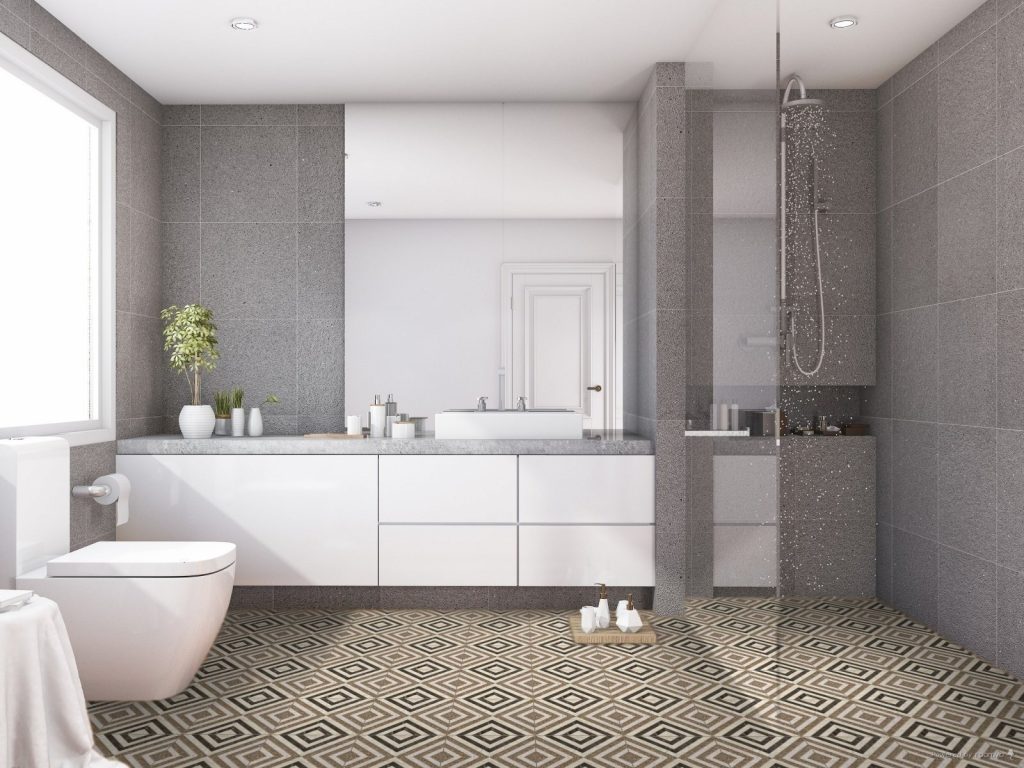 Geometric patterns never go out of fashion, and geometric tiles will always reign in bathrooms as they also come in many shapes, colours, materials, and finishes. Geometric patterns can help add some visual depth to a space, making it look bigger – a need for most smaller bathrooms. As a rule of thumb, do not use more than three different patterns in the bathroom – it can make the space look visually cluttered!
Wooden Tiles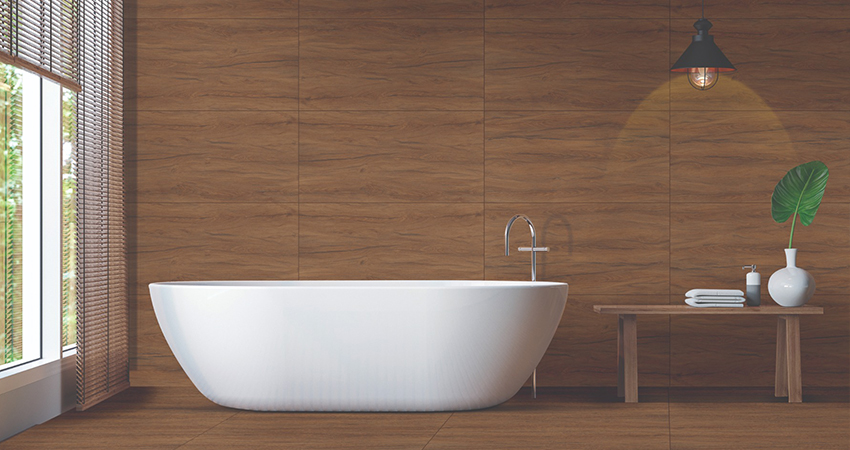 While we cannot use authentic hardwood in the bathroom, especially on the floors, the beauty of wood is too enticing to be excluded from the bathroom, which is why wooden tiles will continue to top all bathroom trends. Wooden tiles do not get damaged by moisture easily, are easy to clean and require very little maintenance – all the while giving you that warm and inviting look of hardwood.
You can also add an elegant and modern look to your bathroom mirror with wooden tiles.
Wooden tiles, especially wooden plank tiles, can give your bathroom a striking look. Stack them vertically on walls to elongate the space vertically and give the bathroom a soothing aura.
2023 is almost here, and the best way to prepare for it is to feel for the new look of your home. From dramatic geometric patterns to artistic murals, these tile trends will surely inspire you. The trends will give your space an updated flair and a fabulous new look.
Matte Finish Tiles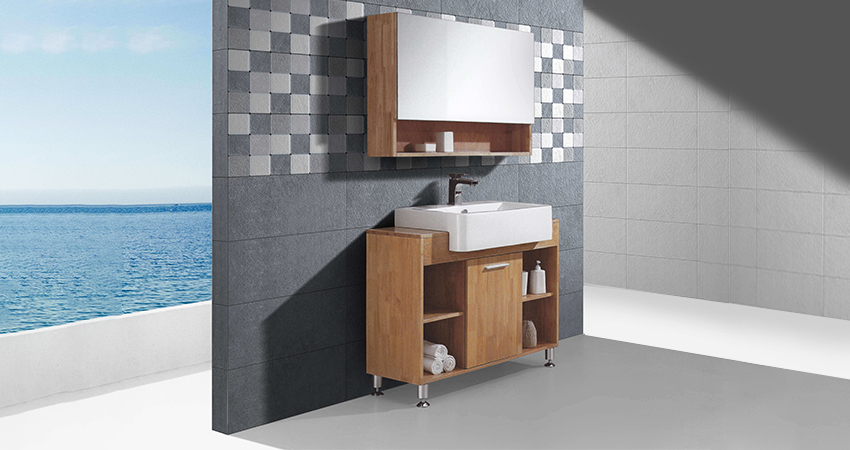 In these tiles, a special layer is added on the top to help achieve a non-shiny and subtle look. It is known for its anti-slippery nature, which makes it ideal for all spaces, including those with high water usage. These tiles are also great at concealing scratches & stains, thus eliminating the need for intensive cleaning. If you are looking for a natural or traditional look, then matte finish tiles are an excellent option.
Also Read: Which Is The Best Colour For Your Bathroom Walls?
How Can Orientbell Tiles Help?
Looking to give your bathroom an updated and new look? Look no further; visit the Orientbell Tiles website or visit a store near you today! With a variety of digital tools under our belts, such as TriaLook, TruLook, and SameLook, we assure you, you will definitely find the tile of your need!