01 Dec 2022, Read Time : 4 Min
Top 6 Flooring Design Ideas For An Ideal Study Room Decor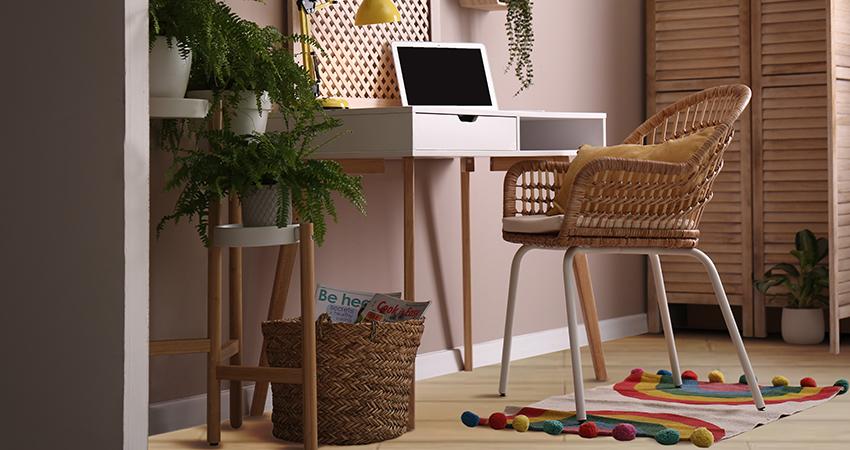 A well-designed study can help you feel focused and comfortable and be a source of inspiration for your work. The study does not just need to be functionally sound; it also requires an aesthetic that not only helps comfort you and calms you but also helps improve your productivity. The greatest of ideas always come from inspiration, and a proper study, with the right décor, can really get your creative juices flowing.
An ill-planned, ill-designed study will just end up being cluttered and overwhelming and have the opposite impact on you – instead of boosting your productivity, the clutter will just end up being a source of distraction for you.
Therefore, designing a study requires careful planning. You do not need a separate room to create a study – converting a corner of your bedroom will also work, as long as you restrict the space and design it to look and feel different from the rest of your bedroom.
The floor of your study is very important since it is the base of your space. Using the wrong colour, pattern, texture, or even material can have a significant impact on the overall look of the room.
Top 6 Flooring Design Ideas For An Ideal Study Room Décor
1) Wood And Earthy Tones For An Elegant Look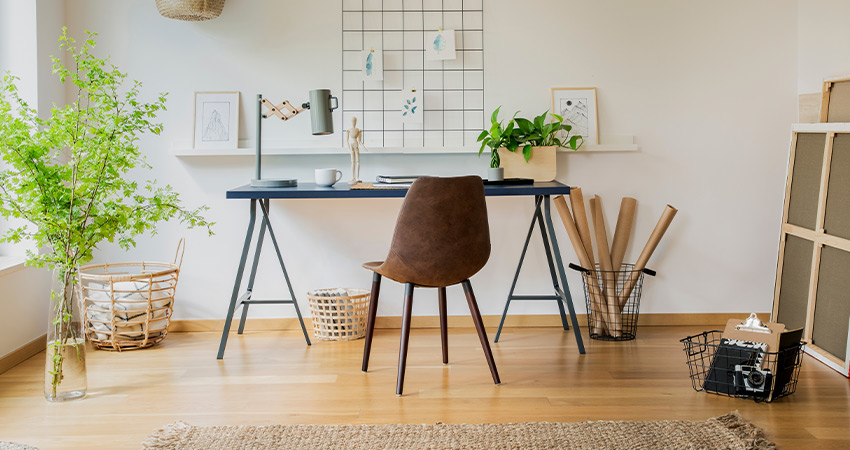 If you wish to give your study an understated look of elegance and sophistication, wood flooring or flooring in earthy tones should be your go-to choice. These materials and colours help soothe your nerves and can make you feel relaxed and calm. If hardwood floors are not within the budget, wood-look tiles can provide you with the same aesthetic at a fraction of the cost and maintenance. Not on a fan of a wooden floor? You can also opt for earthy stone tiles for a graceful and timeless look.
2) A Comfy Rug To Up The Cosy Quotient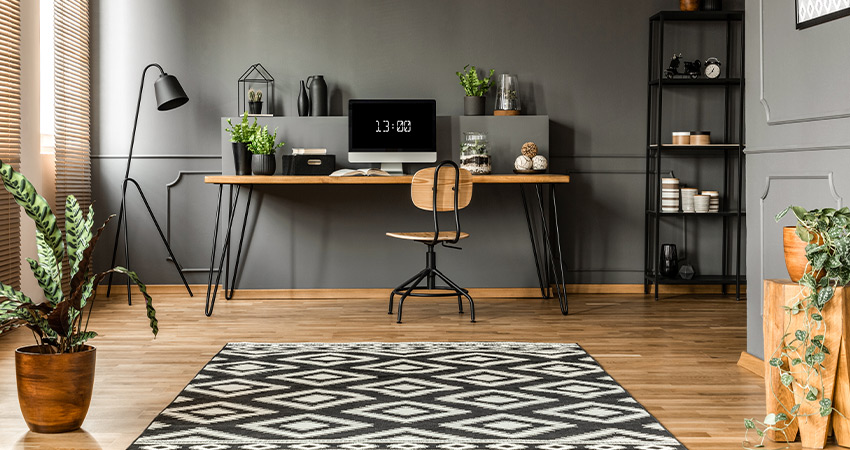 Who says the study room needs to be a cold space with no source of comfort? Adding a cushy rug can not only help make the space feel cosier but can also double up as a restful space where you can take breaks from sitting upright and maybe grab a cup of coffee while you sink your toes into some comfortable fluff. Ensure the rug is well secured and its corners are not rolled over – as this can be a tripping hazard.
Bright rugs can also serve to add a pop of colour to your study room and add some visual depth to the space.
3) Light Floors For A Contemporary Look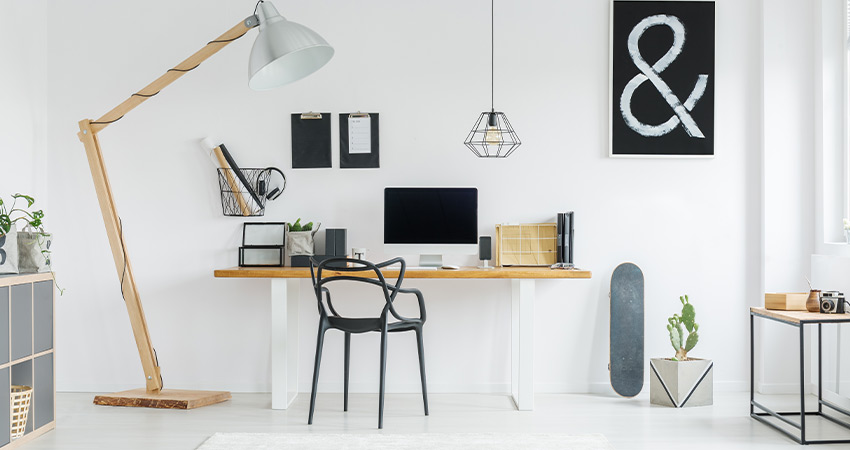 A contemporary study room design often features a single light colour, mostly white, cream or beige, on the floors and walls with contrasting décor pieces. You can shift from the norm and use light tiles in any shade for your floors and a similar shade on the walls to create a seamless and cohesive space with minimal distractions. Darker-coloured furniture, wall art, light fixtures and accessories can accentuate the beauty of the simple space and create a clutter-free space with minimal distractions.
4) Geometric Floors, Plain Walls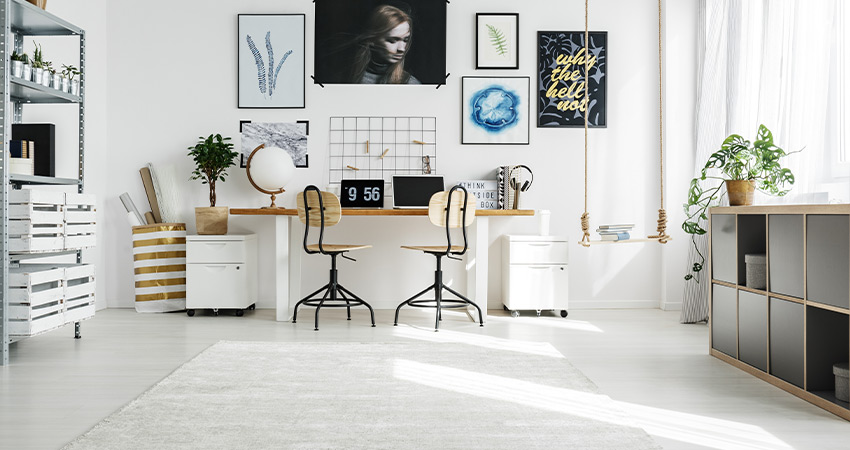 Yes, you need to keep the space simple and distraction-free, but that does not mean you cannot experiment a bit with patterns. While patterns at eye level, aka on the walls (especially the wall behind your desk), are discouraged as they can be distracting, patterns on the floor can help add visual depth to your study room without adding any visual clutter to the space.
5) Pastel Paradise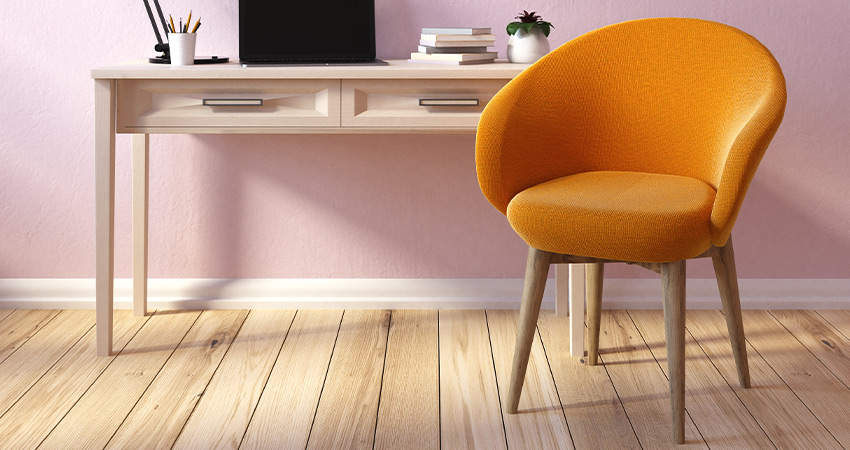 You can use pastel floor tiles in shades such as light pink, lilac, light blue or mint to give your study room a soft and beautiful look. Pastel colours have a lot less saturation than primary colours, having a soothing and calming impact on the mood of your space. As for the walls, you can opt for a monochrome look by using the same shade as the floors or go full contrast by using a contrasting shade on the walls – it doesn't matter since these light colours are non-distracting and can create a calming atmosphere.
7) Marble For Some Luxury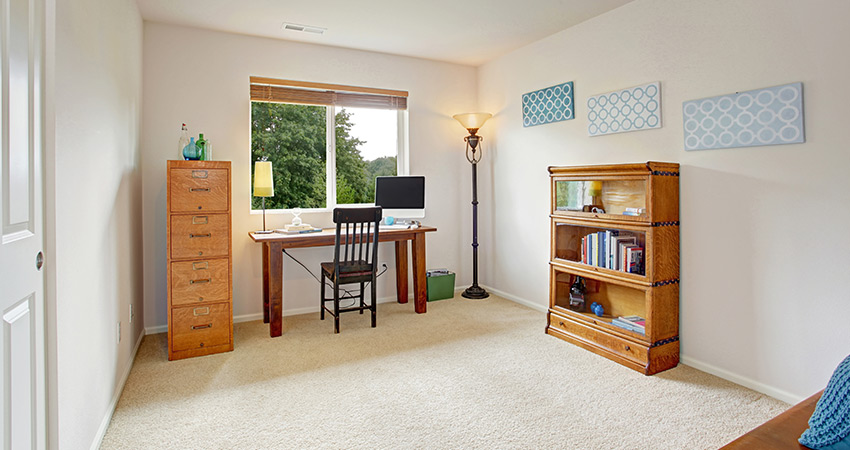 Marble flooring is an often preferred choice for the study room owing to its durability and timelessness. While natural marble slabs might be quite expensive and high maintenance, marble floor tiles can provide you with the same look and durability coupled with ease of maintenance. Marble adds a touch of luxury to the space, creating a quiet and calm environment for you to work peacefully. The intricate veining running through marble makes each piece unique and can give your space a distinctive and individual look.
Choosing the right décor for your study room is important, and choosing the right flooring is more so. The right flooring can make the space and help in elevating the look and feel, while the running flooring choice can pull down the whole aesthetic. There are various materials you can use for your study, so it is better to consider their durability, ease of cleaning and ease of maintenance before making a choice.
How Can Orientbell Tiles Help?
If you wish to install tiles, be it wood look, marble, stone look or light tiles, in your study room, you can check out our collection of tiles on our website or at a store near you. You can also find our tile visualisation tool, TriaLook, on the website and try your selected tiles in your space before making a choice.