In recent times, parking spaces have become a necessity. No living complex, mall or hospitals can function without a parking space because almost everyone these days has a private vehicle. A parking facility ensures a systematic approach and safety of vehicles. Parking tiles play a pivotal role in making the parking space a facility that one would like. The tiles add to the whole experience. It's time that we bust myths like tiles aren't durable enough to bear the weight of vehicles. Read ahead to know about tiles that are perfect for parking lots and how to choose them.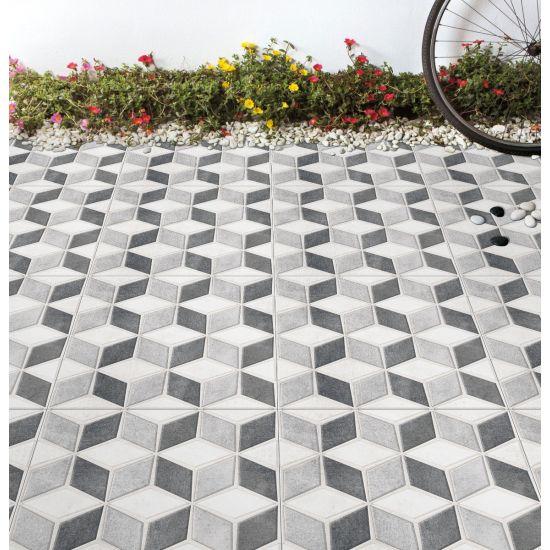 The Basics to Choose Parking Tiles
There are a lot of factors that one needs to consider when choosing parking tiles.
First and foremost comes the understanding of the space or the area that one is building a parking lot on. Understand whether the parking lot will be built underground or outdoors. Estimating the size of the parking lot is also important to be able to choose the perfect parking tiles. Start thinking about tiles only after you have clarity about these aspects because your choice will depend a lot on that.
Don't be casual about choosing parking tiles. They deserve the same attention and planning that goes into choosing tiles for the interiors of the house. After all, parking tiles will make the first impression on anyone who visits the place, whether it is a mall, school, or hospital. And everyone knows that the first impression is the last impression. But apart from the looks, you also need to be careful about the durability of the tiles or they wouldn't be able to bear the weight of vehicles.
The colour, tone, hue, material, width and durability, every aspect requires a lot of attention and once you're familiar with what space you have and understand the area that you're building a parking on, this will become a lot easier.
What Kind of Tiles should You Choose for Parking?
There is a certain checklist that you should refer to when seeking deciding what kind of tiles you need to choose for parking lots. Obviously, the quality matters but it is also important to decide about features like texture and width. One should always remember to buy the strongest tiles for parking lots. The tiles should be able to handle immense pressure, should be durable, water-resistant and skid-free. These factors will affect the life of a tile placed in parking lots. So if you want the tiles to last longer, be careful about what you choose. The tiles should be able to handle dense traffic and should not crack under any circumstances. Good choices for car parking lots are:
Vitrified Tiles
Porcelain Tiles
How should You Choose the Colour of Parking Tiles?
"Where" is one of the biggest questions when it comes to selecting tiles. The lighting and location of the area is important. For instance, if your parking lot is in the basement or a closed place in general, you should use tiles of lighter shades, tones, and hues as they will give a sense of openness and add light to the area. However, if the parking space is out in the open, dark shade tiles would also suit well.
While choosing the colour of the tiles, also consider the aesthetics of the space. The overall look of the parking lot should look appealing and should complement every other element that exists in the space. From the lighting to the color on the walls to the tiles used, everything should be in sync.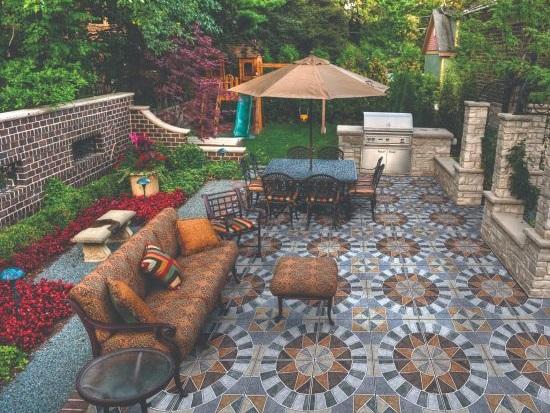 Remember that every colour has a story to tell, a mood to create and you can't ignore it. Every colour imparts an emotion and that shall always be the key while you design a space or choose tiles for a certain area.
Some colours set different tones when used in different ways. For example, the colour red depicts both love and danger.
Mixing and matching colours is another popular style these days. You can look at contrasting colours to add style to a space. You can also consider designs that stand out or highlight certain parts of the parking space. If you think about the space and design a bit, it will look unique and be hard to forget.
Let's Talk about Types of Parking Tiles



Porcelain Tiles
Porcelain tiles are basically ceramic tiles only but are built under immense pressure to deliver longevity and greater strength. Think of porcelain tiles like they went to the gym and worked out, while ceramic just stayed home and binged web shows.
Porcelain tiles are anti-skid tiles that make them the perfect fit for parking spaces. If you are looking for stylish and colourful tiles, porcelain tiles might be the end of your
quest as these tiles are available in a huge range of colours, designs and patterns. They are known to be pocket-friendly, making them a popular choice in the market. These tiles are very durable and can handle sharp or heavy objects falling on them without getting damaged. The chipping, if it happens, is very rare and limited. To call porcelain tiles all-weather won't be wrong. When we compare these tiles to the likes of natural and vitrified, they offer easy installation, a wide range of designs and texture, cost-effectiveness and less maintenance.
Vitrified Tiles
Vitrified tiles have a lot of muscle and they are very durable. They provide the parking area with maximum strength and resistance. These tiles get polished while being manufactured, so there's no need to polish them after they are installed.
Vitrified tiles, however, don't come in many styles and colours, making the range to choose from a bit limited. These tiles bring to the table almost nil maintenance expenditure. They are consistent in terms of size, shape and thickness. They have excellent resistance to scratches, spots and stains, they are skid-free in nature, and the installation is easy and hassle-free. People also opt for vitrified tiles because they provide a traditional and classy look to any area.
Our Recommendations
Orientbell SAHARA series full body vitrified 10mm and Orientbell SAHARA series full body vitrified 16mm would be a couple of our top recommendations. These tiles come with a strength of 6000Newton and can hold up a weight of 100 tons. That means it won't crack even if a full-sized aeroplane is parked on them. It comes in five very unique colours: Sahara Nero, Kota Green, Gris, Beige and Creama.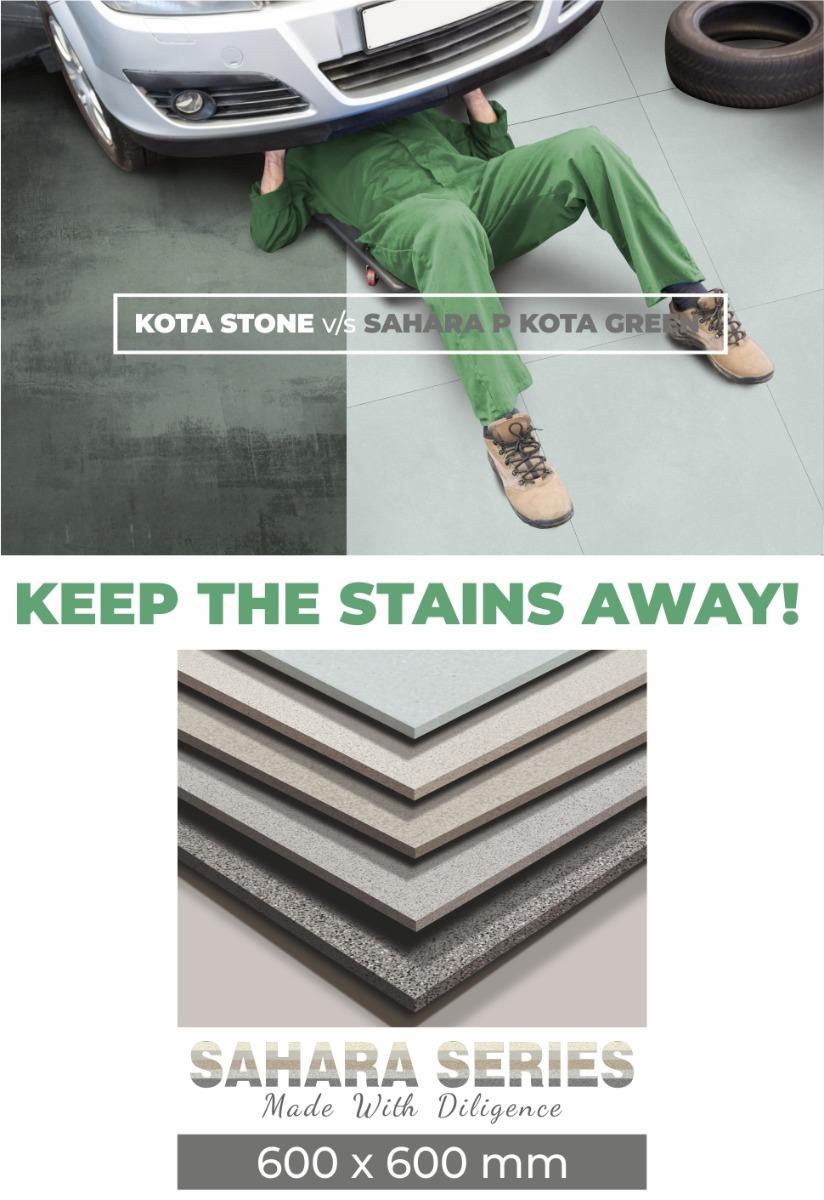 Orientbell RHINO series would be another top recommended option to fulfil all your needs. The designer series is available in cobblestone, geometric, squares, arch, wavelock, wooden and many more designs and has dark shades as well as lighter ones. These pavers have a maximum flexural strength of 40 N/mm2 and resist nearly all kinds of load to remain scratch-proof, which is best-in-class and beats most branded pavers.