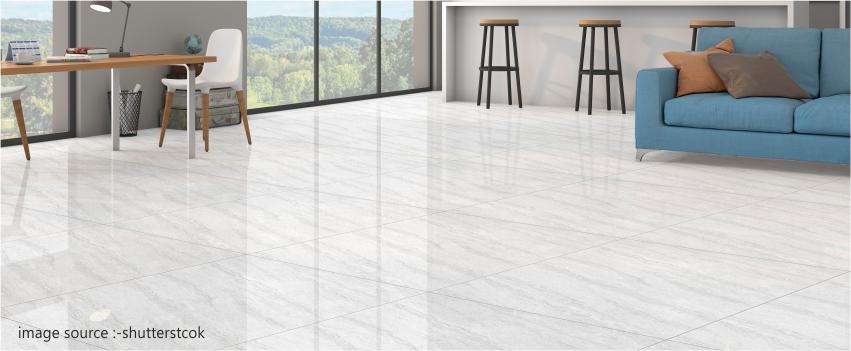 A huge amount of effort goes into the renovation and designing of your dream home. All the mood-boards that came to life must have been an experience in itself without a doubt. We know the efforts that go into selecting every item for your house, and how carefully you handle everything to make your place look fabulous.
While everyone prefers a clean and shining home, it often gets dirty no matter how many precautions we take. An accidental spillage is all it takes to leave a notable stain on your floor. Even if you prevent such accidents, dust, soil, and other such factors do the job overtime.
A long-term solution for reducing the requirement of maintenance is to select the right floor tiles. As tiles are available across different brands, designs and combinations, you can thoroughly explore before going with a particular design, size, and finish that aligns with your dream home.
Whichever one you get, it has been observed that tiles require much less maintenance than natural stones like marble, granite or even wooden flooring in general. However, even the tiles cannot be completely dirt-free, and require regular cleaning and mopping.
Thus, for any floor tiles you have, here are some of the most popular ways to clean them so that their beauty never fades
Citrus Floor Cleaner
A citrus cleaner is one of the most useful natural materials to remove the dullness from your floor tiles. Moreover, it is extremely simple to make. All you need to do is grab some orange peels, a little vinegar, and keep the combination tightly closed in a container for a week. After that, you can use a spray bottle to sprinkle the resultant solution on the tile surface and clean with a mop or cloth.
Using citrus cleaner is one of the most used ways to clean floor tiles. However, they also give an added bonus of a pleasant aroma to your place, making it a win-win situation.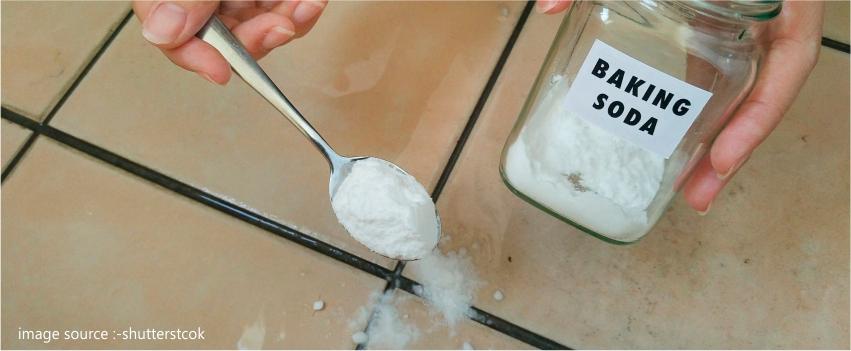 Baking Soda
Whether for ceramic or vitrified tiles, an easy DIY method to make your floor tiles stain-free is to use a baking soda cleaning solution. Justy a small amount of baking soda in warm water goes a long way when it comes to tile cleaning.
It's fairly simple to use the baking soda solution. Take a wet sponge or a mop, and apply this solution directly to the tiles. After that, you can gently rub the tile surface. However, it is important to ensure that you do not cause any scrapes on the tile surface. After thoroughly rubbing the solution, rinse the tile surface with warm water, which will make your tiles neat and clean for long.
If you have scaling in your bathroom or the wet area of your kitchen, this method is extremely effective for cleaning. This method, on regular usage, proves great for the look. Please take note that if you are doing this for the first time, make sure that you scrub the affected spots gently, and repeat the process twice or thrice a week for best results.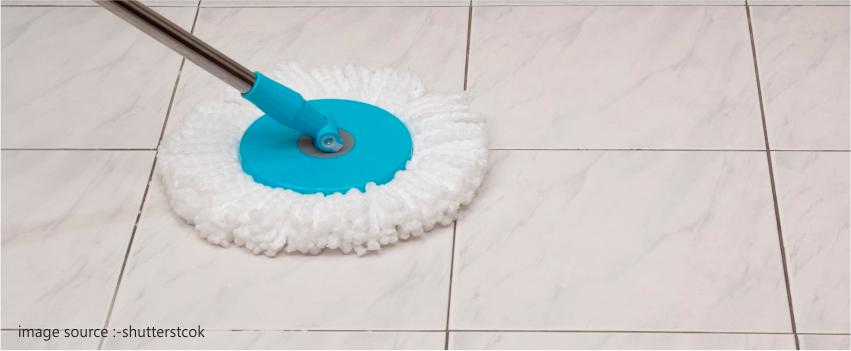 White Vinegar
White vinegar is counted among the best natural disinfectants for a reason, as it easily removes any type of oil stains or grease. Similar to our baking soda solution, you can make this one easily at your home. Simply, add vinegar and water in equal parts. Apply this solution to the tile surface using a cloth or sponge, and it would really work well for your tiles! And, similar to citrus cleaner solution, using the white vinegar solution leaves a fresh and delightful scent in the room.
However, it is important to remember to scrub gently lest you erode the top layer of the tile. Be it matte or vitrified tiles, always scrub gently to get rid of stains but never over rub. If stains are stubborn, then repeat the process every alternate day instead of attempting to get rid of it in a single sitting.
If you feel that the tiled space has high footfall and is prone to stains, you can always explore Orientbell Tiles' Forever Tiles in matte finish. These tiles' scratch-free nature makes sure that you can move items or scrub without worrying about scratches.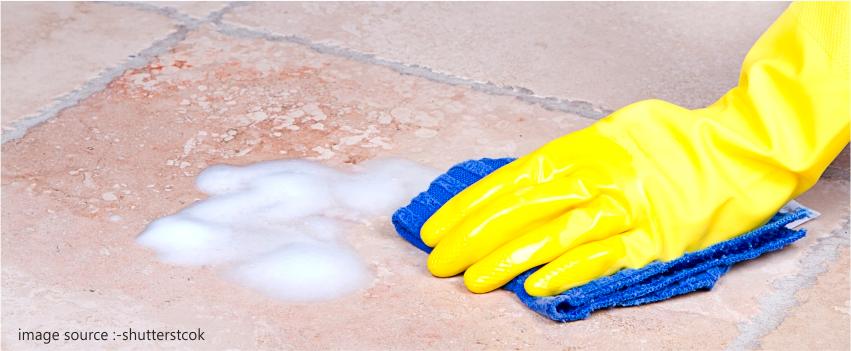 Mild Detergent
Detergents are present in almost all homes, and that makes it an easily available material for cleaning the floor tiles. Yes, besides just dishes or clothes, your mild detergents can perfectly remove stains from the tile surface as well. All you need to do is mix any mild detergent with water and rub it on the tile surface for erasing tough stains. If the marks are stubborn, don't panic. Just use a mopping cloth first, after which you can carry on with mild scrubbing.
Moreover, if you are deep cleaning and want to eradicate the dirt on the edges and corners, feel free to wash the floor with detergent water. A wooden stick broom can be used afterwards to get rid of such dirty water. It is advised to mop with clean water after this process.
Just a quick instruction: Don't step inside the kitchen until the floor is absolutely dry. This is a straightforward way to avoid unwanted accidents.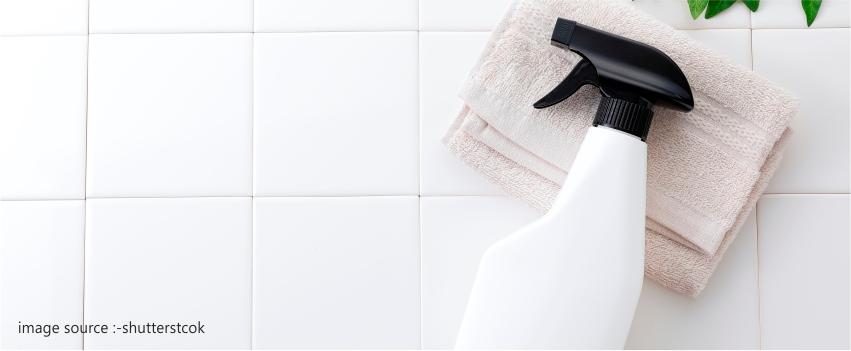 Salt
This might sound strange. How can salt be used to clean floor tiles?

In reality, salt is a great agent for cleaning your tile surface. It's also an inexpensive disinfecting agent, killing most of the germs on the surface. After wetting your floors with little water or mopping it with a wet cloth, you can sprinkle some salt on the floor. Later, you can lightly scrub the tiles for harsh stains.
It's important to remember that you should opt for only the matte finish tiles to avoid accidents. These matte tiles are available in multiple sizes in both ceramic and vitrified bodies. 300x300mm and 600x600mm are some of the popular sizes in this category.
Alternatively, you can also select the Germ-Free Tiles, which notably kill 99.9% germ causing bacteria upon contact.
How To Clean Tile Grout Lines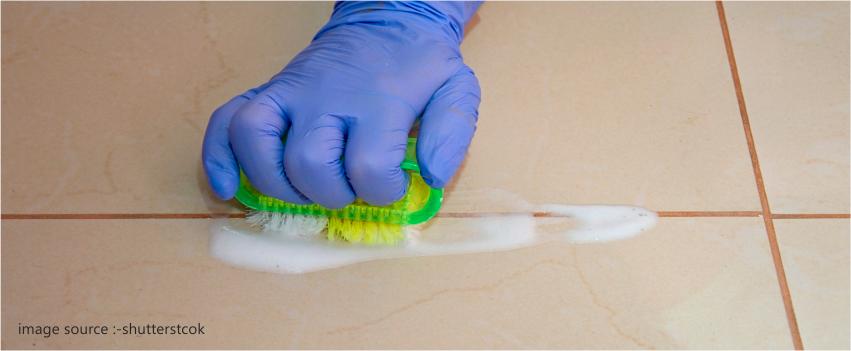 While thinking about tiles, we often forget about the grout lines. These thin lines, used in between the tiles, are actually known as grouts which are used to stick the tiles together. With time, grouts lose their charm and appear dull and dirty. Nevertheless, there are several ways to keep these lines tidy, which can ramp up your tile game to a great extent!
Over the counter grout cleaners are easily available at your local hardware or sanitary stores. They are known for being effective and easy to use.

A number of natural cleansers are available in the market. You can use any one of them to clean the dirt accumulated in the grout lines. Two of the most popular cleaning agents are baking soda and vinegar.
What you can do is - make a grainy paste using baking soda and white vinegar and apply this paste between the tiles. After resting it for 5-10mins, scrub off all the gunk and dirt accumulated on the tiles with the help of a toothbrush. You can also apply a little amount of either baking soda or vinegar on the tile surface and keep it for a while. After that, simply rub the grout lines with a brush or sponge for complete cleaning.
Your daily-use toothpaste is another alternative and a quick fix for cleaning the grouts. Apply some of it on a small brush (which, obviously, is dedicated only to grout-cleaning), and scrub it gently. Wash it off after cleaning or wiping with a wet cloth.
Steps To Keep Your Floor Tiles Intact
Just like those quotes on life, consistency is the key as maintaining the tiled flooring is better than cleaning the tiles occasionally.
You can continue using the methods mentioned above for regular cleaning. As a bonus, we would like to share with you certain tips so that you can keep the tiles' beauty intact after cleaning.
Make sure that there is no dust gathered at any place for a long time. Vacuum all the extra dust from the floor tiles before you start with the actual cleaning process. This way, you will be able to clean the tile surface easily without worrying about the tough stains.

Once done with cleaning, make sure there is no residue of the cleanser left on the tile surface. If even a drop of it is left, more dust and dirt are attracted.

For long-term benefits, you should get your tile grouts cleaned by professionals at least once in 3 months. With their expertise and range of tools, they can clean the tiles and grout lines more efficiently.
Ultimately, even if you get the most expensive tiles for your space, the main aspect which decides how long they will last is proper maintenance. Following all the steps mentioned above will definitely help you keep the floor tiles beautiful and charming for a long time.