05 Dec 2022, Read Time : 8 Min
What Are Interlocking Tiles, and Where Are They Used?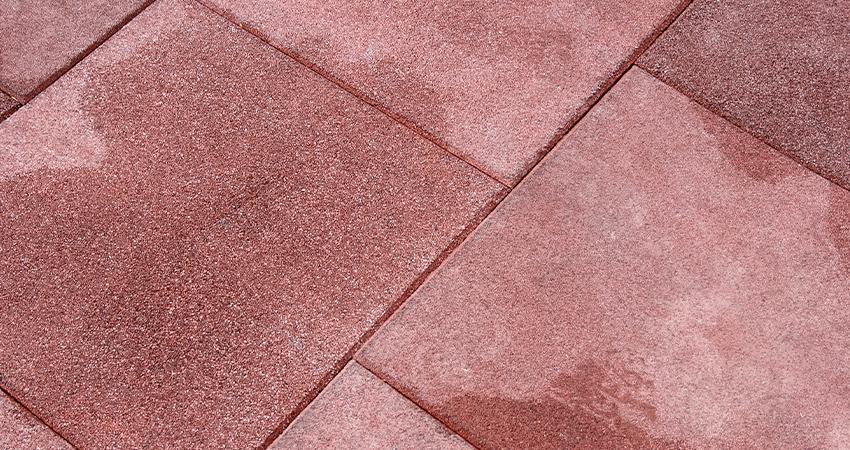 Today, redesigning a house doesn't come that easy. There are so many fine details that one needs to pay attention to before jumping on the wagon. All of this needs to be done keeping in mind that the quality of redesigning has to be top-notch. The master head-scratcher of them all, which is the flooring, is the most important, yet the most underrated aspect of redesigning a home. In most cases, we may end up spending so much on making our homes ornamental that we cut costs on flooring, which compromises the quality. After a few good years, those grout lines start to appear more and more distinct and some of them may even start to shake in their place.
Thanks to modern technology and innovation, interlocking tiles are here to solve all our tiling problems. Not only are they technically equipped with modern flooring solutions but they also come in a wide range of designs that will bring your home projects to life.
What are interlocking tiles?
Interlocking tiles are tiles that interlock each other to form a floating floor. This means that the tiles are not glued down to the main floor. They are interlocked using an interlocking system over a flat surface and are held by the gravity of their own weight.
Where are interlocking tiles used?
Entrance:
A great way to enhance the look of your entryway and make a lasting first impression is by using interlocking tiles at the entrance.
Steps:
Interlocking tiles also look great on steps, making them easy to install and maintain too.
Flower beds:
Adding interlocking tiles to flower beds enhances the look and functionality of the space. It can make the flower bed an attractive spot in your home.
Walls:
Using interlocking tiles in retaining walls is a great way to that extra appeal to your homes. The good thing about this is that you get to be creative and use the tiles as per your preference.
Driveway:
Interlocking tiles in the driveway not only create a captivating driveway but also adds value to your home. It is a great update from the conventional paved driveway and adds a beautiful aesthetic.
Interlocking tiles Design Ideas
You may wonder what materials are used in interlocking tiles. There are several types of interlocking tiles in different materials that are available in the market.
Slate tiles:
Slate is a metamorphic rock formed under great heat and pressure. This is what makes it hard and durable. It is also resistant to water, unlike some other natural stones. Many people may think of slate as stone grey or black, but contrary to this belief, it is available in different colours like purple, green, orange and so on.
Granite:
Granite is an igneous material, whose composition is usually dominated by Quartz. It is a high-end paving material, but it has certain drawbacks if used outdoors. Granite tile is usually highly polished, which means it has a slippery surface. This may not be safe for people walking on it as it may cause accidents. It is also a relatively porous stone compared to the others available. Due to this reason, granite will need regular sealing to prevent staining and water absorption.
Limestone:
Limestone is a sedimentary rock made of carbon-based substitutes of marine life that have been forming and compressed over millions of years. Its natural formation is the reason why it has tiny fossils over it. Limestone is a favourite construction material because it is available easily and in abundance and is a versatile stone. Limestone is found in shades of tan, brown, grey and white. It is softer than slate and granite, which makes it susceptible to chipping and wear and tear. It is preferable to use this stone in dry areas like the patio for it to last longer.
Sandstone:
Another sedimentary rock which is even softer than limestone, sandstone is formed out of layers of sand compressed over time and it has a beautiful texture. Its softness is what makes it vulnerable to scratching, which is why it needs regular sealing to prevent water penetration. It is best to use this stone for outdoor spaces that are dry for it to last longer.
Travertine tiles:
Considered a form of limestone, travertine is mined around natural mineral spring deposits. Even though it is very attractive and hard, it has a slightly pitted surface that may tend to collect dirt and dust unless it is polished. Highly polished travertine can get very slippery, which means it cannot be used in places where there is good footfall. The travertine mined in Turkey or Italy is known to have more water resistance compared to the ones found in Mexico or China.
Soapstone tiles:
Known for its smooth, silky texture, soapstone is a non-porous natural stone which comes with good water resistance and heat resistance. This is why this stone is very useful in places that have very hot climates. A great choice to use around swimming pools, soapstone performs exceptionally well in wet areas. It is usually available in shades of black, dark grey, blush grey and green.
Quarry tiles:
Unlike the name, quarry tiles are not really mined from natural quarries, but they are a kind of artificial stone that is made from unglazed clay along with other natural materials and fired at high temperatures to make them hard, almost in the same way that traditional bricks are made. They make a great choice for patios and are in a way, created for outdoor uses. They are available in a limited colour range, namely red, brown or grey. They give your spaces a rustic, bohemian kind of vibe. They have great water resistance, which makes them user-friendly even in wet areas. The only downside to quarry tiles is that they may not work well in cold temperatures as they tend to get even cooler.
Ceramic tiles:
Ceramic floor tiles are an acceptable choice for outdoor patios as they are strong and durable. They are made from clay and fired at high temperatures, thus explaining their strength. When we say acceptable choice, we mean that there are better, more durable and stronger options. Ceramic tiles are usually glazed and are used for wall tiling, which may seem to be tricky because they can get slippery sooner than we know. When lightly used, ceramic tiles can work well on patios.
Porcelain tiles:
Porcelain tiles are a dense and strong form of ceramic tiles, made from finer clays and fired at higher temperatures than the standard firing. This is what makes them tougher and more durable compared to ceramic tiles. Porcelain tiles come in a vast range offering different textures, colours and designs. The best ones are those that are textured and have a matte surface as they won't be slippery when wet.
Concrete tiles:
Get the look of natural stone at the best price with concrete tiles. These tiles are moulded from poured concrete and give the textures and colours as that of natural concrete. They are widely used for patios because of their toughness. Although they can get stained easily which may need regular sealing.
Wood deck tiles:
Wood deck tiles are basically large squares of wood or composite planks attached to backing strips with interlocking edges. They are usually made with water-resistant wood such as cedar or redwood. Super easy to install, they do not need any understructure and create great patio flooring.
Interlocking plastic tiles:
These are relatively new forms of tiles that come with interlocking edges. The good thing about these tiles is that their texture is slip resistant which guards against slips and falls. They can also be installed as a DIY project. They may not fulfil your wish of being aesthetically pleasing but they are extremely durable and long-lasting. All you need to do is to lay them on a flat surface and interlock the edges. It is that easy.
Rubber tiles:
Often used in sports courts, gyms and play areas, they are similar to plastic interlocking tiles that form a resilient surface. They are reasonably priced, which makes them affordable and they are super easy to install. For a project that has a tight budget, this is a great choice as it is an easy DIY project that comes in handy.
Carpet tiles:
Carpet tiles come in a lot of varieties. Depending on the type, carpet tiles may be peeled and stuck, adhered with adhesive tape or have interlocking edges. They can be easily installed on a flat surface and are easy to remove in case of wear and tear.
What are the advantages of interlocking tiles?
There are so many benefits of having interlocking tiles in your spaces. Here are some of the most significant benefits of interlocking tiles.
Easy installation: Unlike other tiles and pavers, interlocking tiles come in handy when it comes to installation. They do not need to be secured with any kind of glue or screws or any pasting materials. All they need is to be interlocked, which makes the installation quick and super easy
Built to Last: Interlocking tiles are manufactured with high-quality materials and sound processes to ensure that they bear a good life and a long-lasting flooring solution.
Load-bearing capacity: Interlocking tiles are made in a way that they can bear a high amount of footfall with activities like dancing or physical performances. These tiles are designed in a way that they make such strenuous activities possible without much difficulty to the feet. They also help in acoustic absorption and provide underfoot comfort.
Protection: Interlocking floor tiles are durable, stain, scratch and water resistant. This is why they provide all-around protection. Because of their super qualities, they are versatile and can be used in damp spaces like kitchens, bathrooms and even around swimming pools.
Appearance: It is important to have tiles that are not only great in performance but also enhance the look of your spaces. Interlocking tiles bear both good looks as well as performance. There are a lot of options available in colours and designs that would suit each person's preference.
Chemical Resistance: Interlocking tiles are made in such a way that they prohibit any kind of chemical reaction. They are resistant to chemicals alongside other substances like petrol, alcohol and harsh abrasives. Because of this feature, interlocking tiles have become famous in the construction industry.