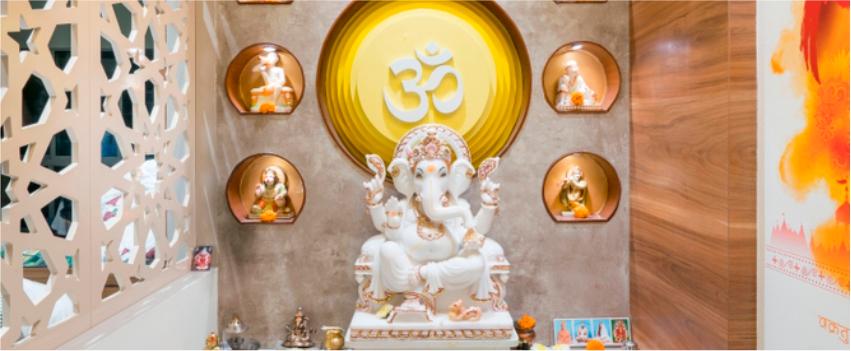 Most Indian households have a dedicated pooja room, which is why it is very important to factor in that space when it needs revamping every now and then. Having said that, as is the case with every house, pooja rooms are a reflection of the homeowner's design aesthetic and how they desire to blend the room or want to make it stand out. Luckily for you, there are multiple ways you can decorate your pooja rooms. Let us have a look at some of the designs of pooja rooms for the next time you redecorate, including the decor and maintenance tips that will help the space last longer than most do.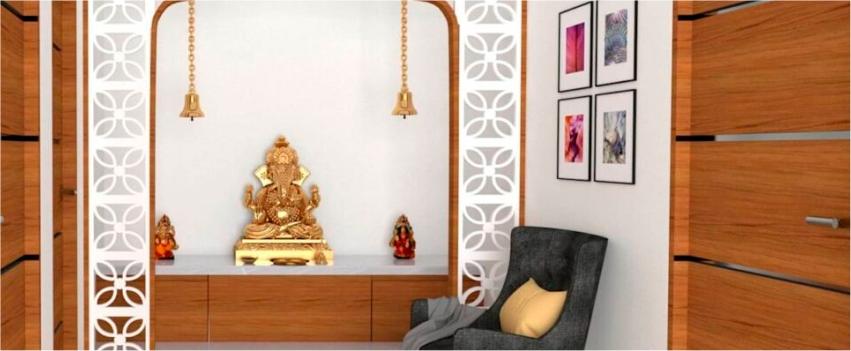 Wooden details in pooja rooms go a long way as they blend in seamlessly with any interior decor theme in your home. In fact, there are many pooja room designs and units readily available for your convenience. While you can make a mandir with wood, you can also seal the longevity of the flooring by opting for wood look tiles. With a plethora of options available, you can find the colour and grain of your choice - without having to deal with the hassle of natural wood. Wood look wall tiles can also be used to bring the warmth of wood to your walls.
Small Wall Mounted Mandir Unit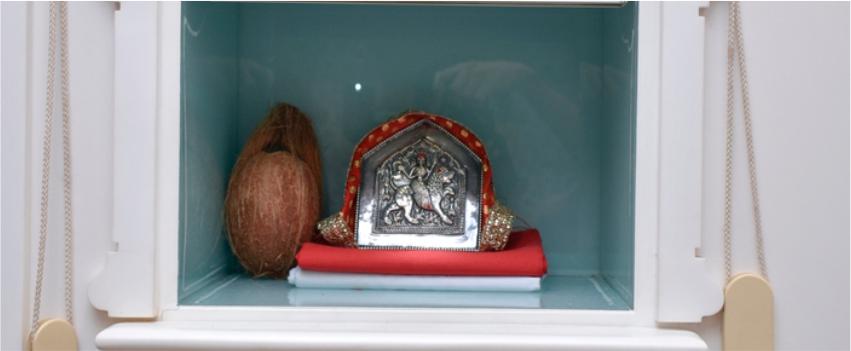 If you are short on space, you can utilise the space on the wall by opting for a small and compact mandir unit. These are often readily available in the market and are easily customisable too. Indian-style pooja room designs usually have a compact and minimal pooja layout that is big on space-saving. One can design a plywood pooja unit and shelf on the wall too. You can also deck it up by adding tile accents to the unit.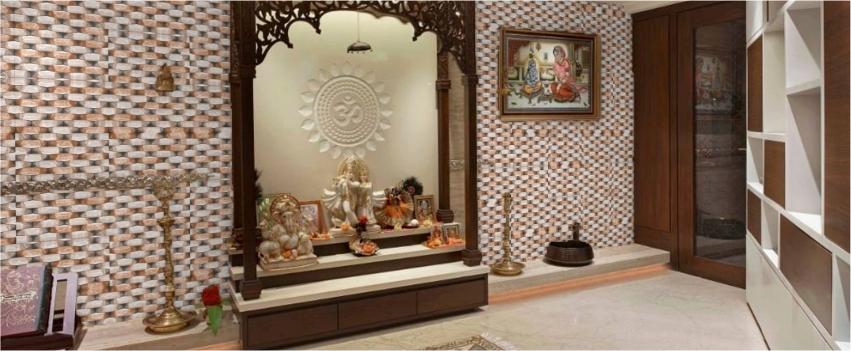 If you have a dedicated space for a pooja room in your house, you can experiment with the backdrop of the room and elevate the overall look of the space. A wall-sized background decor with various designs of your faith will add a personal touch to your sacred space. You can also add textured or designer tiles to your walls to create a striking background for your space.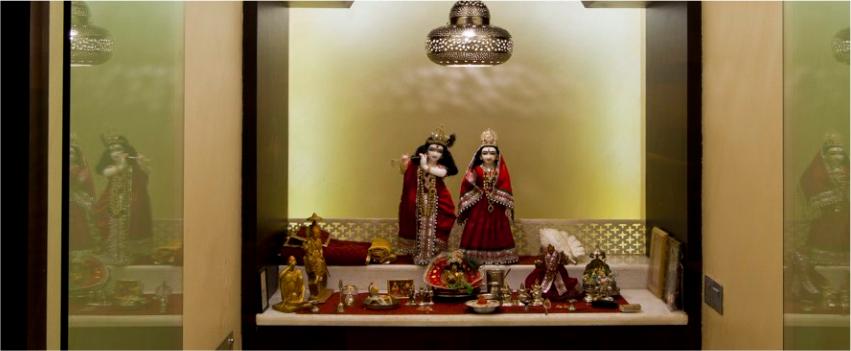 Pooja rooms in Indian households are an integral part of the house. Most of the houses, in fact, pay more attention to that space than any other and rightly so. You need to make that space as welcoming and calming as possible as that's one place you will go to to seek calm and quiet. You can achieve the correct aesthetic by fitting in the right lights. Look to have a balance between illumination and subtlety, as this is a space where devotees might sit and read their holy books, or wish to have a better darshan. Avoid bright, colourful lights that pinch the eyes. Use cool-toned colours and with less wattage so electricity consumption is also less. 
 Jaali Designs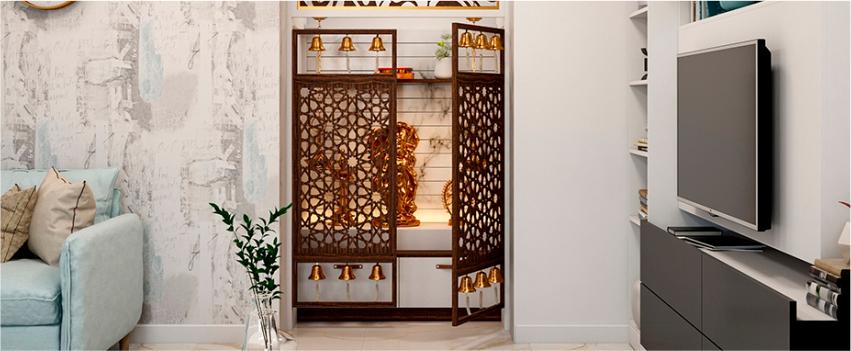 Of all of the designs synonymous with pooja rooms, jaali designs are the most common. Often used as doors or separators, these jaalis are often available in a variety of patterns. Jaalis can add a warm and contemporary touch to your pooja room and help demarcate the space - a big plus when you do not have a separate pooja room and just use a corner of your room as a praying area
Tips To Decorate And Maintain Your Pooja Room
Add some colour to your walls: Instead of opting for monotone colours for your pooja room, you can choose to add bright hues like orange, yellow, maroon and so on on one wall. That will help create a distinguished look. If bright walls are not your style, you can opt for

wall tiles

with touches of brighter hues to infuse some colour into the space, while keeping the overall look subtle.

Use tiles wherever possible: Tiles increase the durability and longevity of the space. Other natural materials, such as stone or wood, can prove to be high-maintenance and be quite difficult to replace when damaged. 

Keep it minimal: Beauty often lies in minimalism. While decorating your pooja room ensure that the focus is on the idol rather than the accessories you add to the space. Don't go too overboard with background designs and elements - the cluttered space will become a sensory overload.

Clean surfaces once a week: Since pooja rooms often see use of incense burning,

dhoop

, and oil in

diyas

, cleaning the surfaces becomes absolutely necessary. This is done to prevent any permanent damages to the surfaces. Use a mild cleaning agent and warm water for cleaning. Avoid using harsh cleaners like acids.
Pooja rooms in India are an integral part of one's faith. A space to seek answers and calm, a space where you can meditate and centre your thoughts. Therefore, it becomes imperative that the decor of this space needs to be calm, invigorating, soothing and pleasing to the eye as well as your emotions. 
Adding tiles is a great way to revamp your pooja room, without making big changes to the space. Floral tiles can infuse happiness, while geometric tiles can add a layer of visual depth to your space. Want to see which tile will work well in your pooja room? Click here to visualise the tiles of your choice in your space with a simple click!