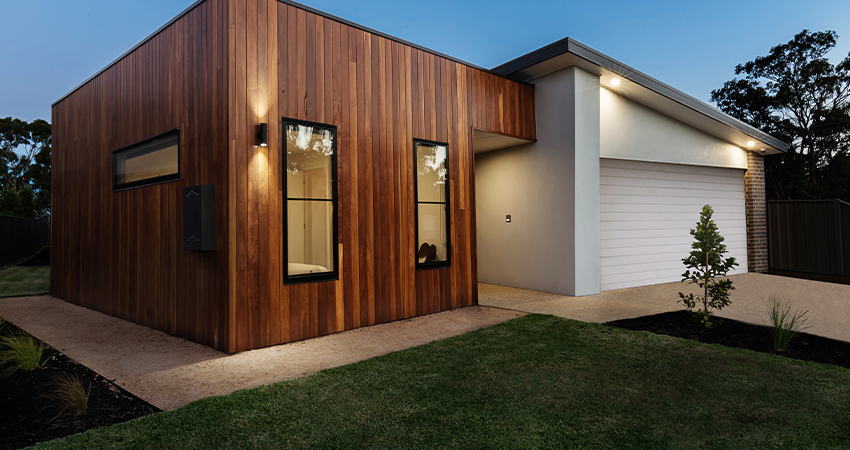 When we speak of tiles, the options, the types and the styles of tiles are limitless. The diverse choices are even more diverse now that the tiles are available as area-specific too. One such type is called Cladding tiles.
What are cladding tiles?
A lot of us may still not be aware of what cladding tiles mean and what their uses are. Cladding tiles are used as a layer on top of the existing materials for walls, both interior and exterior that protect the spaces from weather changes, moisture and dampness. Cladding tiles are made up of ceramic or vitrified material. These tiles are made to be super durable to endure the harsh weather that they may face.
Types of wall cladding:
Wall cladding is done in different ways using different materials. Thanks to the technological advancements that have taken place over years we have been able to add various options to the list of wall cladding.
Natural Stone Cladding:
Natural stone cladding is done using natural stones like slates, sandstones, marble, granite, limestone and quartzite, to name a few. The natural look that this kind of cladding gives makes the spaces look welcoming and beautiful. This kind of cladding can be done either on a concrete or a steel surface. The cost of natural stone cladding may differ from stone to stone.
Brick Cladding:
Cladding bricks are made from lightweight material. These materials come in various colours and offer complete protection from exposure. The brick cladding has a natural density that does not allow it to fracture or degrade. It also has thermal insulation properties which help in maintaining a comfortable temperature within the spaces.
Wood Cladding:
Wood has continued to be a preferred choice in cladding because it bears the most aesthetically pleasing cladding materials. The most common of them all, timber cladding is installed in long, narrow boards that can be put up horizontally, vertically or diagonally and each style can represent a unique ornamental finish, which is beautiful.
Cladding Tiles:
Cladding tiles, which are the most widely used in most homes, are most commonly seen in the exteriors, but nowadays are also becoming very popular to be used in the interior walls as well. Tiles are water resistant and they offer great durability to weather exposure and keep the walls safe, whilst making them look great with their innumerable, gorgeous designs.
Exterior Wall Cladding Tiles Options:
For most of us, only what is inside the house matters, so we put all our energies into making the interiors spectacular and flawless. When it comes to the exterior, more often than not, we settle with a coat of exterior wall paint. But if we only realise that by cladding the walls of our exteriors, we are not only creating value by enhancing the aesthetics of the house, but by also safeguarding them against the harsh consequences of weather and giving them a long, healthy life.
Quarry tiles:
Earlier, external quarry wall tiles were mined from actual quarries. But today, the quarry tiles are made from a highly dense, unfiltered layer of clay. Quarry tiles are a great choice for external wall cladding as they stand strong against harsh weather conditions and maintain a nice, cooling temperature. They are highly water and slip-resistant.
Ceramic external wall tiles:
Ceramic external wall tiles are resistant to most weather conditions, thus they are also a popular choice for external wall cladding. They are mostly found in glazed form, which makes them stain and scratch-resistant too. These tiles are also used in bathrooms, countertops and kitchens. They are economically priced and are available in various colours and designs which makes them a good choice for external wall cladding. They are very low in maintenance and are easy to replace in case of a mishap.
Granite exterior tiles:
One of the strongest materials that you can use for your external wall cladding would be that of Granite. The strength adds to the durability and makes it even more resistant to weather. Plus, the granite that is used for external wall cladding usually comes glazed and polished. There are a few downsides to having granite as well: They are porous so regular health maintenance in terms of sealing and lamination will have to be conducted. Not to mention that Granite is an expensive stone. Unless you have both the budgets to install and to mention, this may be a questionable choice.
Soapstone exterior wall tiles:
Yet another metamorphic stone, soapstone exterior walls are highly resistant to water and stains. They are also decently resilient towards harsh weather conditions. Soapstone exterior wall cladding tiles have a smooth, silky texture. Alternatively, they are also good to be used around your patio or swimming pool.
Travertine:
A form of limestone, travertine is mined from various parts of the world, such as China and Turkey. The quality of Travertine may vary depending on the mine that it is quarried from. It is a hard stone, which means that it is durable. It has a rough texture, which makes it perfect for external wall cladding. It is reasonably priced, which makes it another good reason to have it as exterior wall cladding tiles.
Natural stone:
Natural stone in external wall cladding is an age-old practice, followed centuries ago in places of heritage like forts, monuments, etc. Classy in its look and strong in its nature, natural stone tiles are available in different, abstract shapes. They can withhold all storms of weather, thus they are a great choice for external wall cladding.
Grey-coloured tiles:
Grey-coloured external wall cladding tiles give a rustic and simple look to your homes. The biggest advantage of having grey tiles is that you don't have to be worried about the walls making home dust on the exterior. This makes maintaining them very easy. You can even mix them with other dark colours like blue or black to make them look bespoke and make your exteriors more eye-catching.
Cement:
Using cement on the exterior of the walls is an inexpensive way to protect them from the weather conditions it is exposed to. It gives the house a vintage look too.
Printed or Moroccan tiles:
This is for those who love colour and design. Although we have not yet reached a point where Moroccan tiles are comfortably used for the exteriors, there is always room to try something new and innovative. The walls are your blank canvas. You could go all out and make it a creative wall by putting them throughout, or then just create Mandala patterns for a more creative look.
White stone:
Seeing white on the exterior is nothing new. It is an eternal favourite for most people, both for the interior and the exterior. You can use a single shade of white for exterior wall cladding or have a mix of shades, which could be in different hues of white. The only downside to having white on the exteriors is that the dust on the outside will settle on the walls in no time and it will be visibly clear. It will need regular cleaning to keep it maintained.
Interior Wall Cladding Tiles Design Ideas:
We have a lot to thank for the pandemic, as only after its arrival has we begun to give due importance to the look and feel of our homes a lot more than before. Plain walls are a thing of the past now. A lot of homeowners are taking an interest to make the interior walls of their homes attractive and good-looking. As statement walls are gaining popularity, wall cladding is becoming a popular choice.
Classic brick wall cladding tiles:
Brick wall cladding is one of the most trending wall cladding designs that we get to see in most homes. Making an accent wall behind the TV unit is an ideal spot for brick wall cladding. Even the ones behind the sofas are an accomplished spot. The colour and texture of the brick wall cladding tiles are so versatile and so real, almost feels like a brick wall itself. This one is for those of you who wish to have a hint of rusticity in your homes.
Contemporary grey stone cladding tiles:
Another favourite for most homes, grey stone cladding tiles add a beautiful, subtle texture to the wall and work brilliantly as a backdrop for cabinets or wall decor or even a backsplash for a counter. This one is for those who want subtle elegance in their homes.
Sophisticated black stone cladding tiles:
Black stone wall cladding tiles look bold and opulent in homes. For an accent wall, black stone wall cladding is a great, unique choice to make the wall stand out and add a hint of bold luxury to your home.
Rustic touch with terracotta cladding tiles:
Terracotta wall cladding is the perfect way to add that rustic charm to your home. The good thing about having these wall-cladding tiles is that they don't need to be made any more ornamental. The aesthetic that these tiles have to offer is timeless and will never go out of style.
Get playful with mosaic cladding tiles:
For those of you who love a display of colour and creativity on your walls, mosaic cladding tiles are a great choice. With mosaics, there are no set rules on how to install them. Your creativity gets a chance to be boundless and you can choose to let go of the symmetry and choose a bit of disarray. This way, you will outdo the usual outcome without even knowing it. These rough, unpolished and distinct tiles are a great way to create an appealing look in your home.
Chic ceramic cladding tiles:
The simplest way to beautify your homes would be to use ceramic cladding tiles. Using ceramic brick tiles as cladding tiles in a modern home is a great way to set the tone of the entire decor by adding a hint of vintage chic. These tiles are available in various colours that will allow you to select the one that works best for your home.
Add warm tones with solid wood cladding tiles:
Who doesn't love the solid wood look in their homes? Anything wood is loved by almost everyone as that makes the spaces a warm, inviting effect. To achieve this look in wall cladding, the walls will need to be treated with plywood pieces one by one into a large and intricate assembly. But all that effort is worth every bit of it once the final look is out.
Urban Spaces with Multi-Textured Cladding Tiles:
Take the game up a notch by experimenting with interior wall cladding with multi-textured cladding tiles. Either marble that is found in various colours, textures and designs or a cladding stone with different textures on it combined can form a chic look for your urban home.