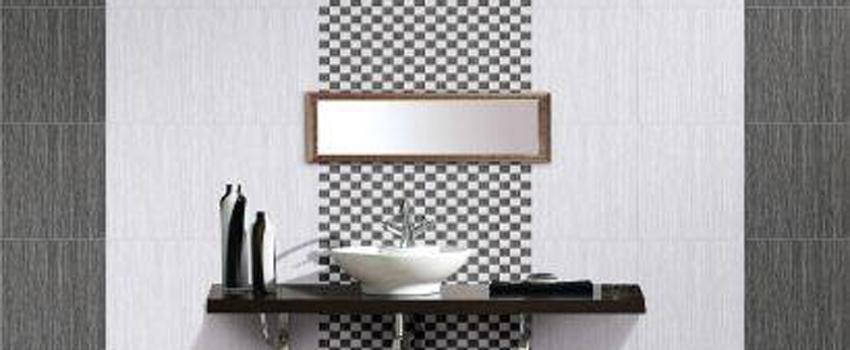 The bathroom can be validated as one of the most important places in your home. Bathrooms allow you to give attention to yourself in utmost privacy. Whether you want to get ready before a day or relax after a long day of toil, a bathroom provides you the solitude to cater to your needs. 
Tiles have always been synonymous to bathrooms. Besides providing a waterproof layer to the walls and floors, they add a touch of beauty and class in your bathroom. With new age technology, contemporary tiles have been crafted to cater to the modern bathroom decor needs. Being naturally resistant to water, they serve as the perfect installation for your bathrooms. Materials such as ceramic, porcelain or vitrified are very strong and do not easily chip. This makes them suitable for a high traffic area like bathrooms.
With evolving designs and patterns, the modern day bathroom looks a lot different than traditional bathrooms. Let us have a glance at the modern designs preferred for new-age homes. 
1.Mosaic - For A Pop of Colour -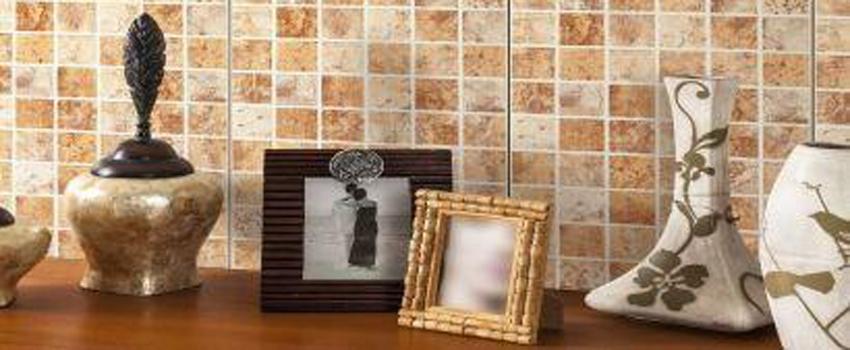 The small colourful blocks of the mosaic pattern have been a hit for decades. They create a vibrant and interesting pattern that instantly attracts attention. Paired with lighter tiles they can look symmetrical yet eccentric. They can also be used on a splashback wall or accent wall for a modern, minimalistic design. Use matching lights and contrasting appliances to seal the look. 
Although mosaics are beautiful, laying them is an ordeal. It requires a lot of patience as they are available in small blocks which need to be laid individually, which in turn, takes up a lot of time. To cut some slack on the hard-work, mosaic tiles are now available. They are easy to install and the ceramic material is very easy to clean and lasts for years. They absorb very little water making them suitable for bathroom usage. Go ahead and give your bathroom a deserved uplift with these mosaic tiles. 
2. Monotone Tiles - For a Modern Look -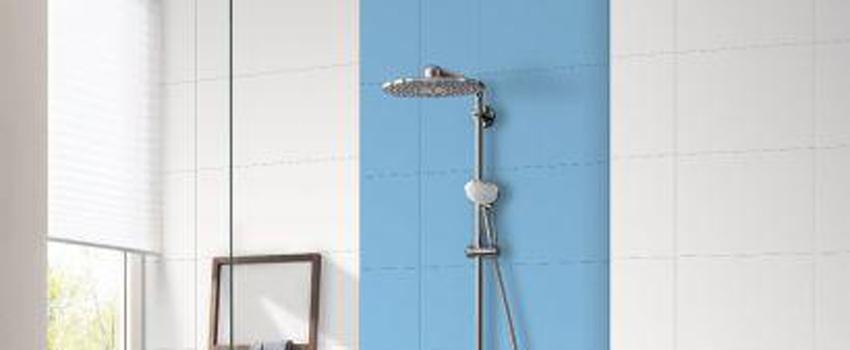 Single tone walls and floors are a great idea if you are looking for a trendy & stylish bathroom or want to accentuate your bathroom space with statement accessories. Previously they were laid simply throughout the whole wall surface of the bathrooms. Modern age bathrooms employ the simplicity of single colour tiles in a more efficient way. Bright coloured tiles, like blue, red or pink, can be used in a specific area, like shower, sink, or the mirror wall to highlight an area. Lighter tiles may be used in other areas, to neutralize the brightness and bring a more subtle, modern look. Similar color walls and floors no matter neutral or in brighter tones, fits well and gives you ample of scope to enhance using trendy fixtures and toiletries.
3. Floral Motifs - For The Nature Lover In You -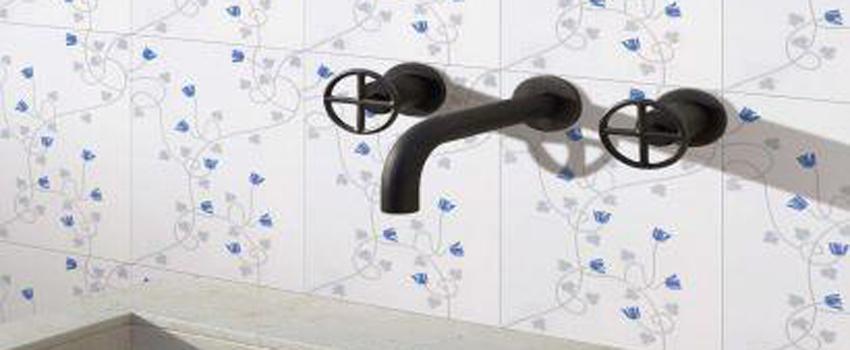 The imagery of flowers immediately brings an element of beauty in your surroundings. Using them in your bathroom in a subtle way can enhance it's look. In the modern day bathroom decor, we have ditched bright, gaudy floral prints. Instead we go for more muted options that are soothing to the eyes and do not look flashy. Choose a subtle, floral tile, to adorn your chosen wall, or a part of your bathroom. Pair it with darker or lighter tiles and suitable appliances. Choose ceramic or vitrified tiles to render a water proof effect to your walls. They are hardy and do not chip easily. Clean them occasionally with soap and water and they will be good to go for many upcoming years. 
Choose from a range of floral patterns here. 
4. Grey Tiles- For A True Urban Decor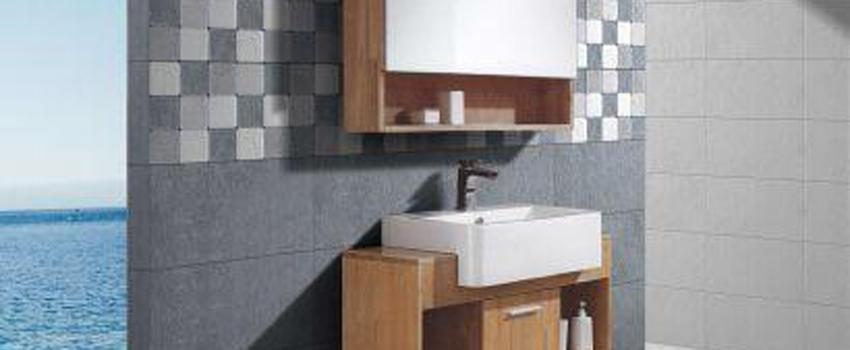 Grey has been the most celebrated colour when it comes to urban decors. Bathrooms have been no exception. Although many fear that grey tiles may make your bathroom look darker and smaller, choosing the right shade of grey makes all the difference. Always install bright lights in your bathroom for optimum visibility. Grey tiles are available in matte and glossy varieties. To create a bolder look, choose matte tiles. You can cut the monotony of grey by using grey highlighter tiles. This will further enhance the look, while maintaining the colour scheme. Ceramic tiles are optimum in providing your bathroom with the necessary waterproof effects. It is also very easy to clean and lasts for a considerable amount of time. It's strength makes it suitable for high footfall. Give a true urban look to your bathroom with these neutral grey tiles. 
5. Marble - To Add A Touch of Luxury -
Nothing speaks of affluence like marble. It's intricate veined pattern bestows a tranquil look to your space. Besides, the glowing look of marble is very attractive to the eyes and adds grandeur to your space. Although real marble is porous and very difficult to install, marble tiles, made of ceramic or vitrified materials, can be used as a proper substitute. Marble tiles perfectly replicate the marble aesthetic while never compromising on convenience. They are very durable and easy to clean. They provide years of service without much maintenance and they hold on to their vibrancy with minimal upkeep.  Pair your darker marble tiles with lighter ones. You can also use the marble aesthetic for sink- tops, accent walls or splashbacks. Paired with bright accessories and proper lighting, marble can create your dream bathroom look. 
Top-Tips For A Great Urban Bathroom Decor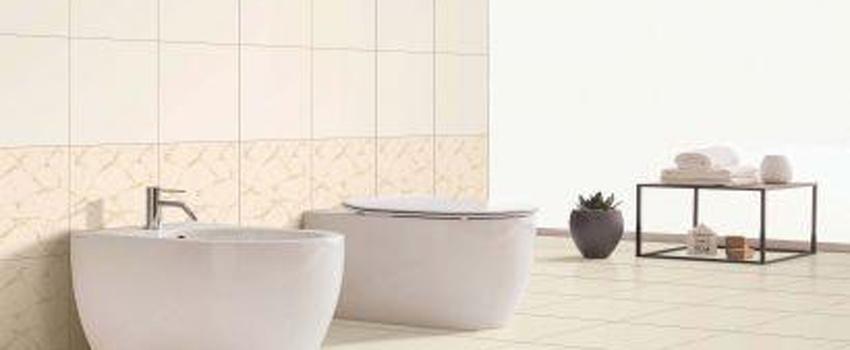 Decide on your main wow-factor tile and where you are going to lay it. 

Your statement tile should be immediately visible when you enter the bathroom. 

Choose subtle highlighter tiles, that belong to the same colour scheme for added beauty

Choose light floor tiles, to bring out the beauty of your wall tiles.

Tile layout is important as it can transform the look of a simple tile to a statement look. 

While adding textured tiles, remember that they might require added attention as dirt settles on the grooves. 

Do not compromise on practicality. Always choose tiles that are easy to clean and last long. 
Choosing tiles for your bathroom can be overwhelming. Nevertheless, these tips can help you choose and style your bathroom for a look that stands out from others. 
Feel free to reach out and inspire us through your comments!