30 Sep 2022, Read Time : 4 Min
How to Mix and Match Tiles in the Bathroom
Check out some cool ways to mix it up and spruce up your bathrooms!
Ever found yourself amidst the dilemma of how to design your bathrooms? Mostly, always. Designing the interiors, be it any room, is one of the most challenging questions to answer because the interior, as a subject,  is vast, and there are so many things to cater to.
Some areas need a lot more attention than others because of their high functionality quotient. Bathrooms are one of them. Unlike other rooms, bathrooms need that special attention because so many small and big aspects could make or break the bathroom look. It would be best if you hit the nail right with the colour palette, the sanitaryware, the fixtures, and the lighting. When executed well, all these aspects will create a bathroom's final ambience.
We are here with some modern-day inspirational ideas that could make things easier for you and take the load off your shoulders.
Same Colour but Different Shape
When choosing tiles for bathrooms, be it for flooring or walls, the world is your oyster! Tiles come in various shapes, sizes, colours, patterns, designs, and textures.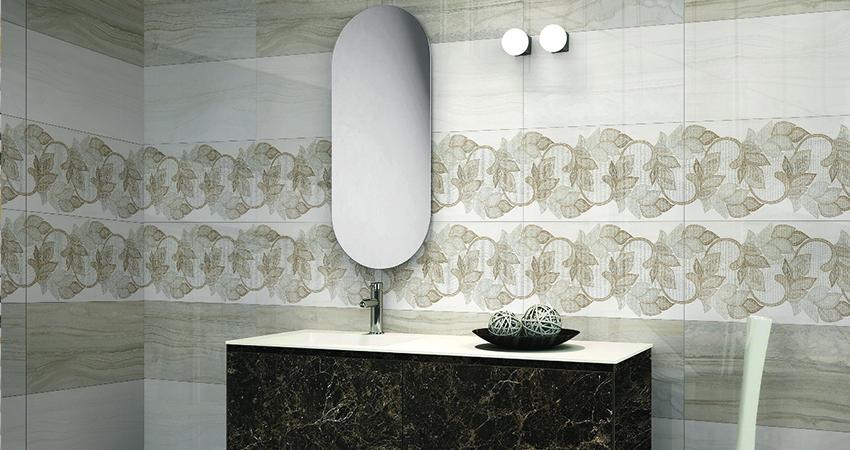 Buy the look: Orientbell.com
Some of us prefer to keep a single colour palette in our bathrooms, so this is a fun, unique way to make the bathrooms look different yet unanimous in colour. Whether you want to keep it simple with cool tones, creams or pastels or be daring with dark, bold colours, this tile trend will look trendy and work in favour of your choice of keeping it monotone. This option favours conventional minds who want hints of modernity in their bathrooms.
Buy the look: Orientbell.com
Accented floor, Simple Walls and Vice Versa
This one is for those who want to play it out a little. It is an ideal mix-and-match option that would add the perfect amount of character and modesty at the same time. You can choose accented flooring and a simple wall tile combination, or you can have it the other way around.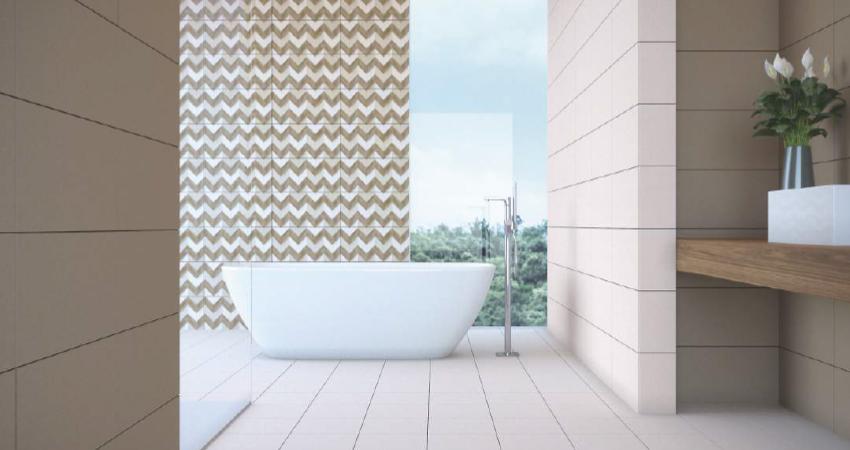 Buy the look: Orientbell.com
This way, you give your bathroom a distinct feature and add the perfect balance to its look. Whether you want your flooring to stand out or your walls, you could lay vibrant, patterned tiles and offset them with pale or muted shades for contrast, or you could even go bolder. You are the artist of your blank canvas! The choice is yours to make.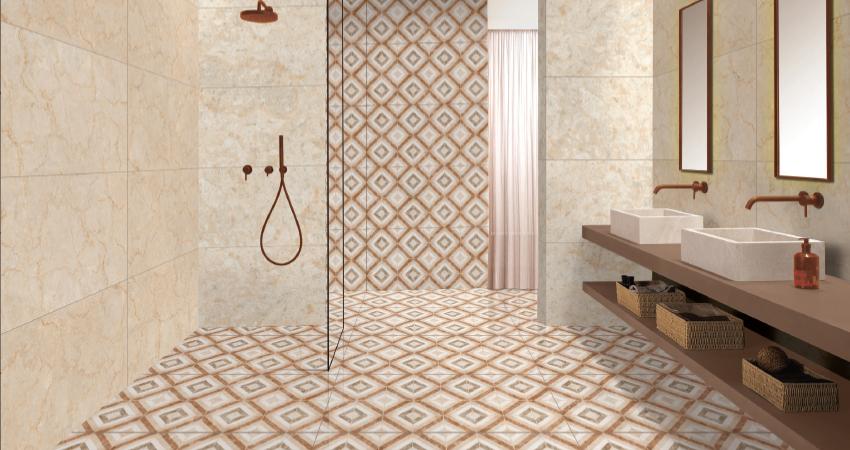 Buy the look: Orientbell.com
Feature Wall Tiles
This has been a favourite of many homeowners as a tile design concept for quite some time now, and it looks like this trend is here to stay. When we say feature wall tiles, it means to have one wall in the room stand out.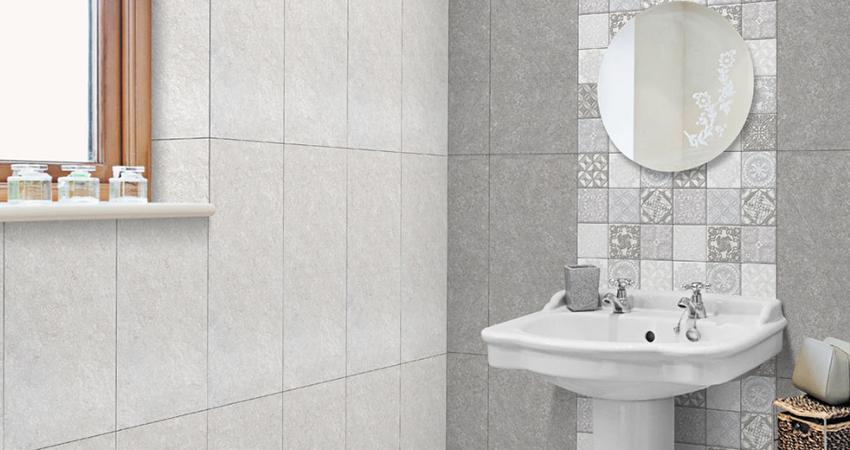 Buy the look: Orientbell.com
Make that one wall different, unusual, quirky, eccentric or elegant, depending on your style and taste. For the bathroom, that focal wall could be the one behind the sink, showerhead, or bathtub. It adds a distinct charm to your bathrooms and makes them look stylish.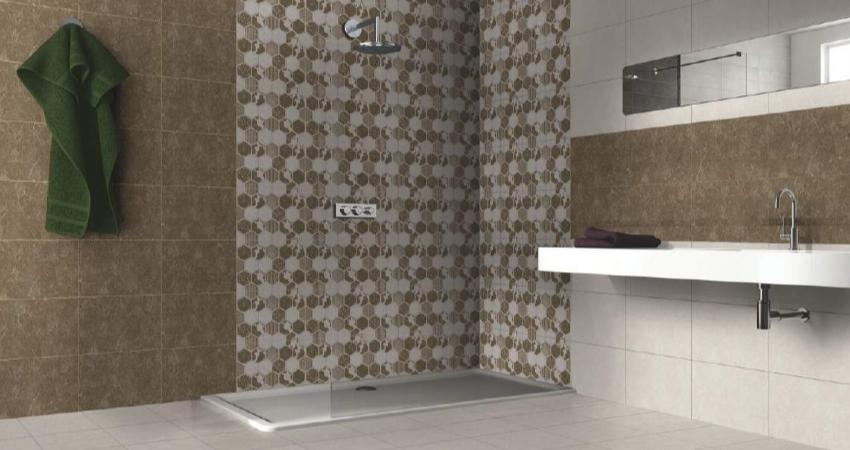 Buy the look: Orientbell.com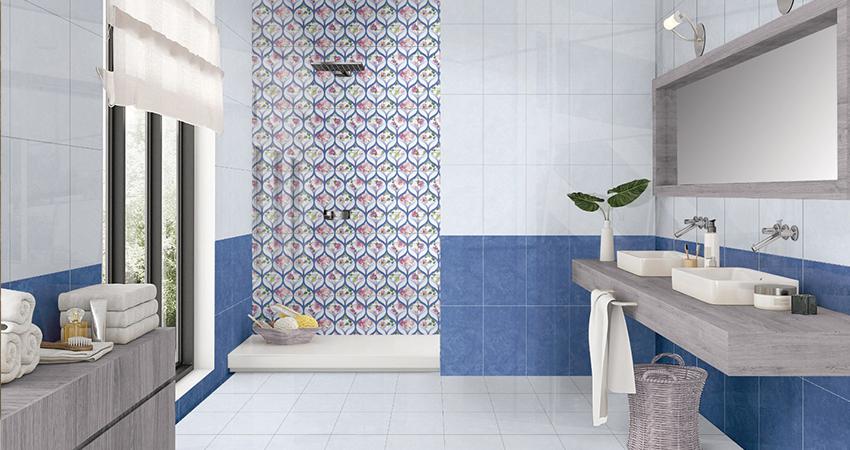 Buy the look: Orientbell.com
Calm and Quiet, Colourful and Patterned
For those minds who'd like to get a tad bit more experimental whilst also maintaining sobriety, this concept is one that you'd like to try. You can go for non-intensive colours for the background and choose some colourful, patterned elements in tiles for your focal/ highlighted walls.
You must remember that you should not overplay with the colours or textures, or it will end up looking overdone. Careful considerations in choosing the colour palettes and the designs are important as that will set the tone of the bathroom.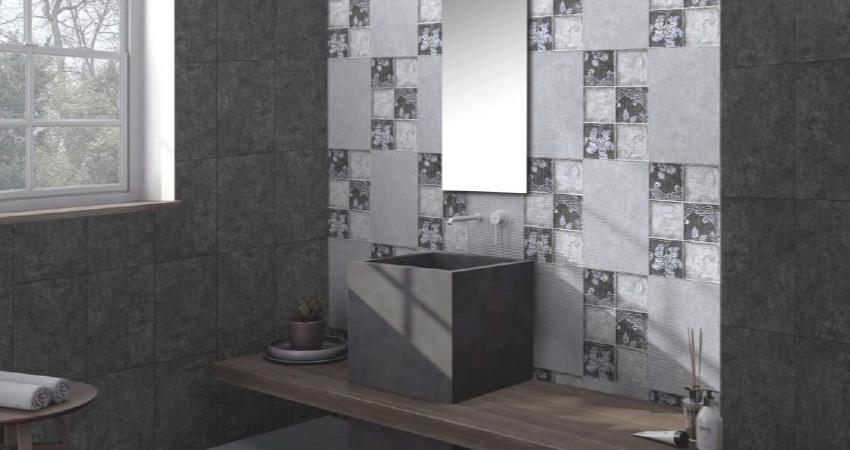 Buy the look: Orientbell.com
Buy the look: Orientbell.com
Go Geometric
Another interesting approach to constructing something completely offbeat in your bathrooms is to go geometric. There are many options available in the market in whichever geometric pattern you prefer, circle, square, triangle, diamond, you name it, and you shall have it all!
Here is the most preferred way to incorporate geometric designed tiles on your focal wall to create a highlight in your bathrooms. This idea is particularly great for small bathrooms as the geometric designs will create an illusion and make your bathrooms appear bigger. Check this out: How to Choose Best Tiles for Your Small Bathroom – 5 easy steps.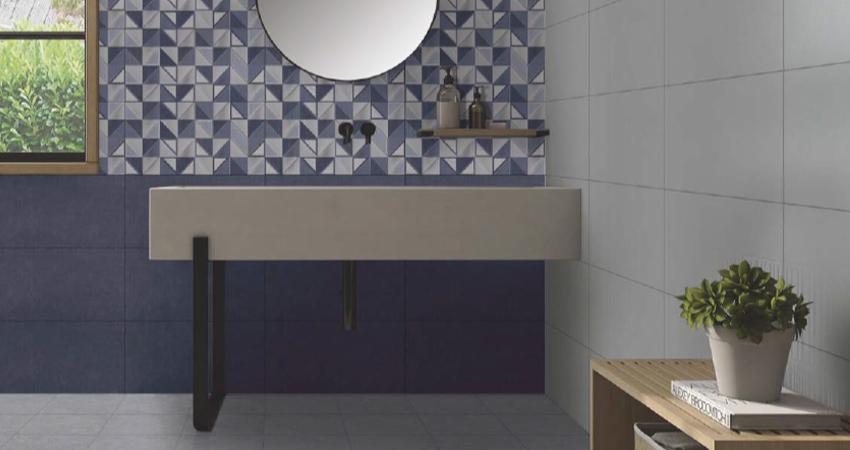 Buy the look: Orientbell.com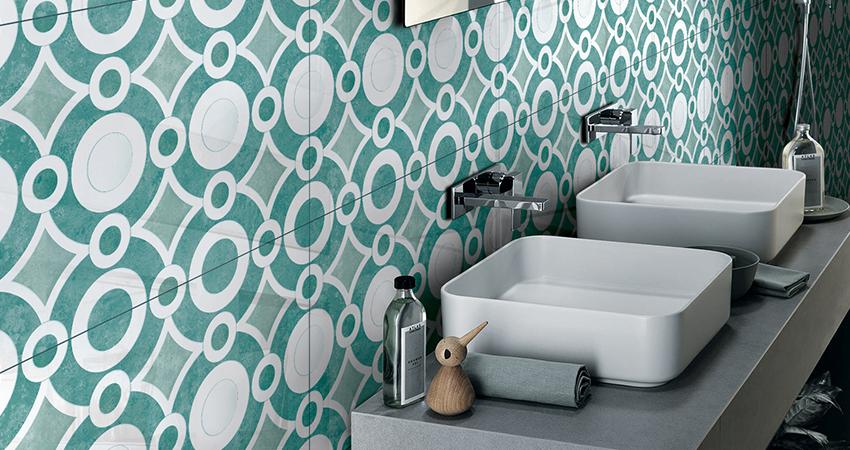 Buy the look: Orientbell.com

Buy the look: Orientbell.com
Still pondering on where to find the coolest bathroom tiles? Visit our nearest store to check out the best there is! We recommend trying these 9 Tile Ideas To Decorate Your Bathroom. 
And if you want to try these for your own bathrooms before you buy them, here's how! Use our amazing Trialook feature to know more.