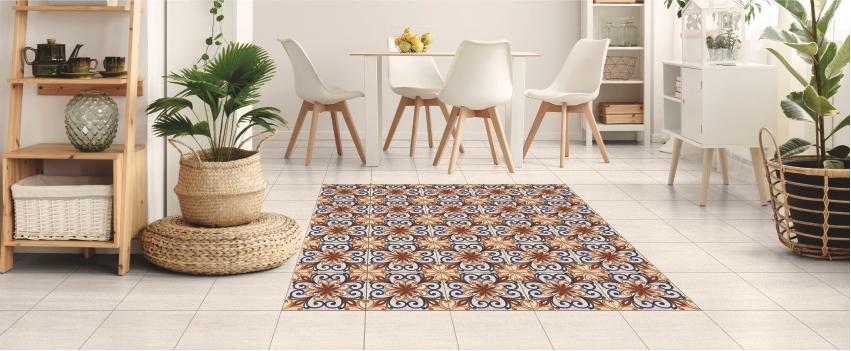 Navratri is the time when people worship the nine forms of Goddess Durga, and the festival marks the triumph of good over evil. Worshippers fast on each of the nine days and pray to the goddess for a positive and fresh start ahead.
Colours have a significant role to play in the festival of Navratri. Each day the devotees wear clothes of a particular colour to celebrate. When you can show solidarity by wearing clothes of those colours, why not do that to your house? If you are planning to renovate or refurbish your house around this time, you can choose from the nine colours that Navratri is synonymous with! Let us have a look at each colour and how you can imbibe the shades through Orientbell Tiles in your home.
Day 1: Yellow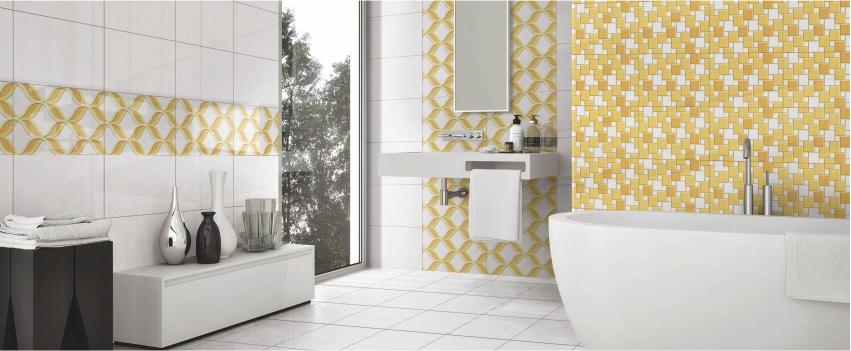 Goddess Shailaputri, a form of Goddess Parvati, is worshipped on day one. The colour yellow is worn for celebrations while the focus is to get rid of evil thoughts. Similarly, you can choose to install yellow tiles. Since it is the start of an auspicious period, you can choose yellow tiles for the pooja room. The GFT SPH Echo Yellow HL ceramic tile from the Sparkle Wall Tiles range of Orientbell Tiles offers phenomenal style and will make your place shine. These germ-free ceramic tiles are best-suited for wet areas like the kitchen or even the pooja room.
Day 2: Green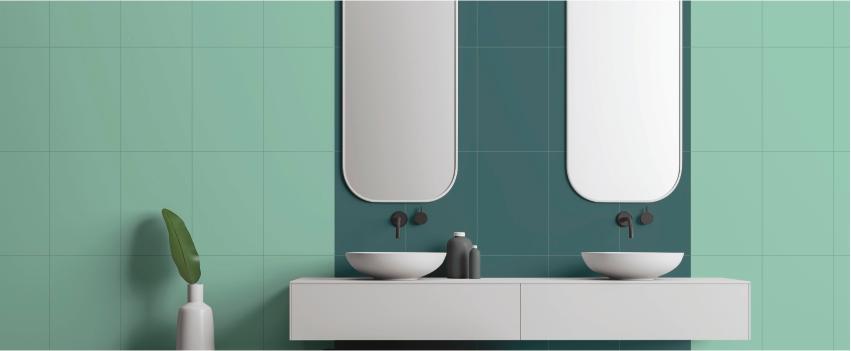 On day two, we worship Goddess Brahmacharini who is the fountainhead of knowledge and wisdom, and that is why the colour green is the colour for nature and positivity. Orientbell Tiles's GFT AntiViral Sea Green ceramic matte finish floor tile will not only be a unique choice but will add a different enigma in line with the festive celebrations. Fix these in your bathroom as they are anti-skid. You can also add a faux grass ambience if you choose to install these on the balcony.
Day 3: Grey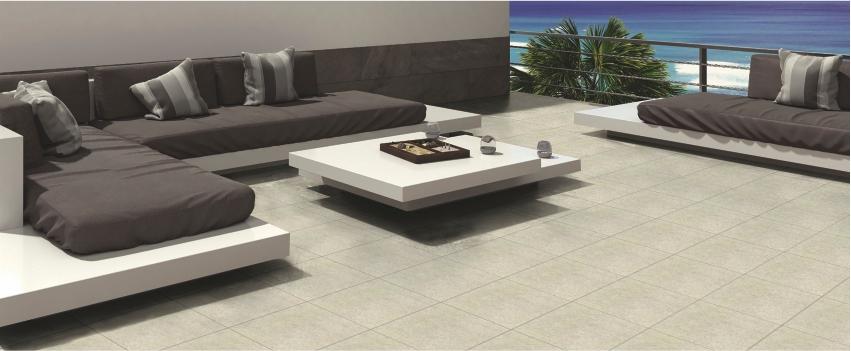 Goddess Chandraghanta is worshipped on day three. On this day, the colour grey signifies strength and emotional balance which everybody roots for. Going with the colour grey in your house will also exude this aura and be Vastu compliant at the same time. The Vesta Grey tiles from Orientbell Tiles fit equally well in kitchens as well as entertainment rooms. The attractive and minute texture on the tiles creates a beautiful pattern in itself. The Vesta Grey tiles are an excellent choice for flooring in areas such as bathrooms, kitchens, terraces and outdoor areas, balconies, and pathways.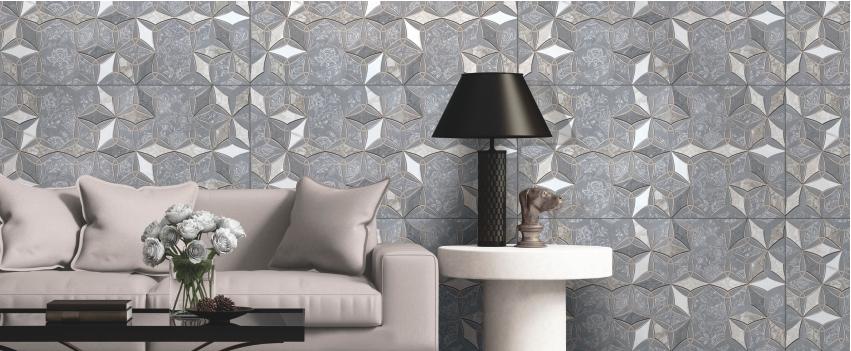 Day 4: Orange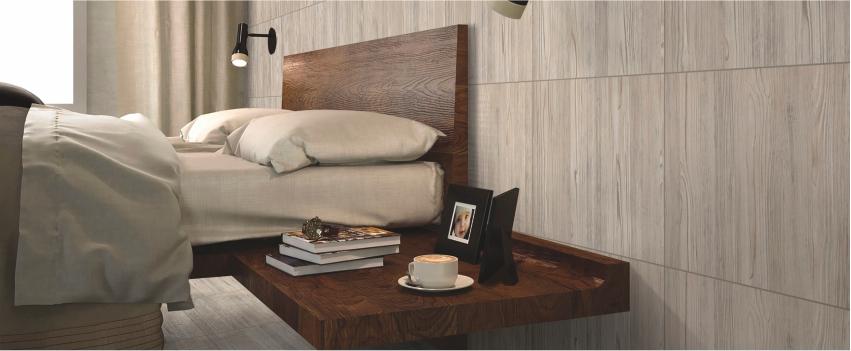 On the fourth day, you invoke the blessings of Goddess Kushmanda whose name signifies the creation of the cosmic universe. To add the element of warmth and exuberance, laying down orange tiles at the entrance of your house would be in line with the festivities. Natural Maple Wood tiles from Orientbell Tiles's bedroom collection is known for the classy, germ-free, rustic look. These tiles work wonderfully on floors as they reflect natural light.
Day 5: White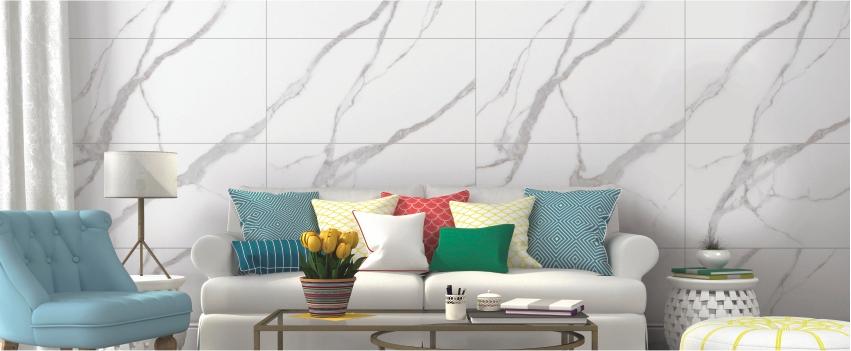 On the day of the colour white, Goddess Skandamata is worshipped who represents motherly affection. The colour white stands for wisdom, wealth, power and prosperity. Orientbell Tiles' polished glazed vitrified tiles range, especially Statuario Natura, give you all that and much more! The glossy finish ensures the living room is lit enough and gives the illusion of a larger room. Maintenance, just like any other Orientbell Tiles, is easy. All you need is a wet cloth and a mild disinfectant.
You can also view an array of white tiles available at Orientbell Tiles in various category for both residential and commercial spaces ready to welcome the Goddess in your abodes.
Day 6: Red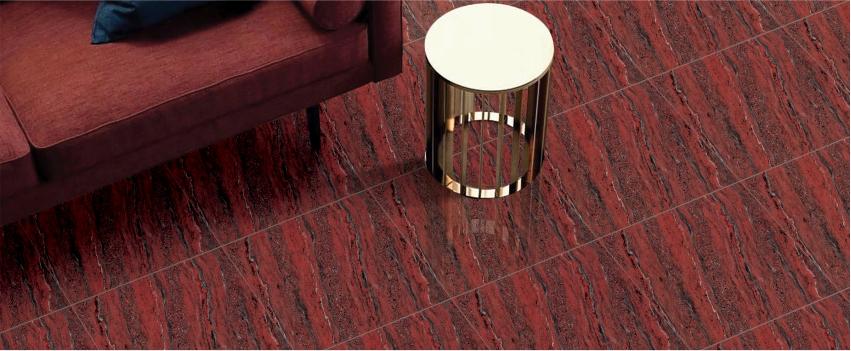 On the sixth day, the colour red brings its significance and impact in full force. Goddess Katyayani slays the demon Mahishasura which symbolises the end of evil. In your house, to ward off evil spirits, bring in an element of red. The latest River range offers a very subtle mix of red and maroon with its River Red tiles that are perfect for any part of your house, be it the bedroom, living room or even your study. The double-charged tiles ensure durability isn't compromised. The deep red defines your space in the most subtle yet vibrant and tasteful manner and is a big hit from the River series when it comes to big spaces.
Day 7: Royal Blue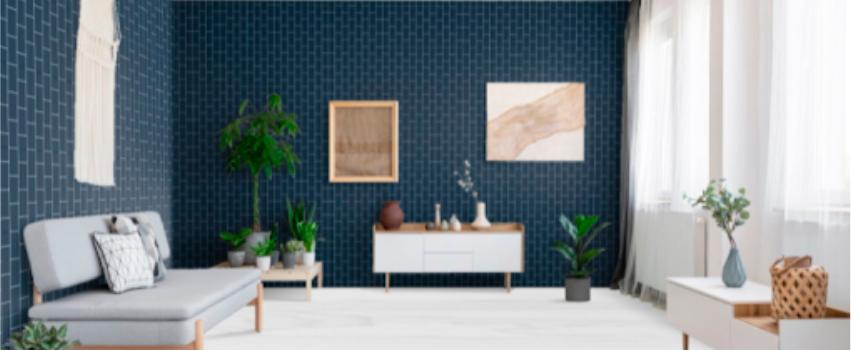 The glossy finish EHG Brick Blue DK tile is a perfect choice keeping the seventh day of the festivities in mind. Even otherwise, the colour blue brings with it a sense of calm and clarity as per Vastu rules. The seventh day is for worshipping Goddess Kaalratri who destroys darkness! EHG Brick Blue DK can withstand harsh climatic conditions as it is among the strongest tiles available at Orientbell Tiles. It acts as a barrier between inner walls and damage. So even if it is raining heavily outside or the wall is exposed to extreme heat, no harm will come to your walls.
Day 8: Pink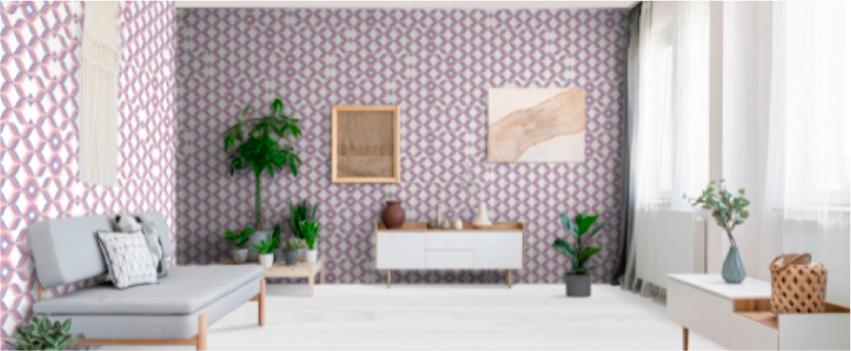 Pink is a colour nobody can hate and fortunately it also has a spiritual connection with it as it's one of the nine colours during the Navratri. On the eighth day, Goddess Mahagauri signifies beauty and freedom. The multi-coloured wave pattern of HWH Wave Pink HL gives a stylish look to the walls. It is crafted with ceramic material along with the finishing of gloss. The glossy finish gives a shimmering touch to the tile and makes it appear more beautiful. Bring that element of freedom to your home by clubbing pink tiles with plain tiles to give a highlighted effect to the walls.
Day 9: Purple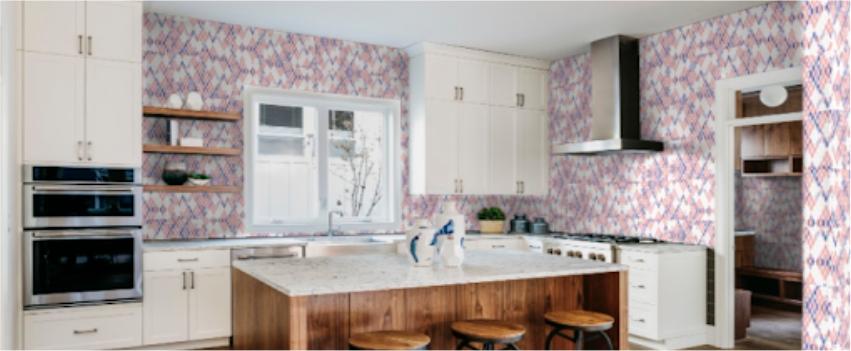 On the auspicious occasion of Dussehra or the last day of Navratri, using the colour purple, signifying the worship of Goddess Siddhidatri, is considered to be the symbol of stability and wealth. Bring in those values to your home and family by adding a hint of purple into the tiles of your home. Orientbell Tiles's 3D Flower Purple has a subtle tint of purple that you can add to your kitchen island or countertops.
Now that you know the significance of each day and colour, it will be easy for you to fill your home with vibrancy and positivity by adding these designer tiles to the décor. Even if you wish to revamp your space after the auspicious occasion of Navratri, you can still use these colours to keep the spirituality factor rooted in every corner of the house!