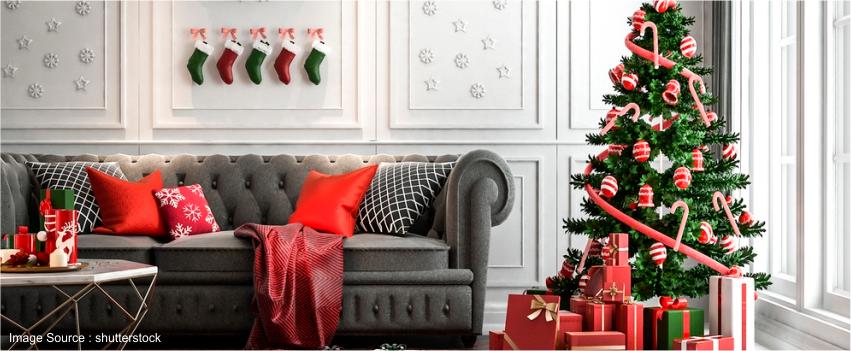 Christmas is just around the corner and the excitement in the air is palpable. As the holiday season slowly approaches, it is time to start thinking about and deciding exactly how you would like to decorate your home this festive season. Do you want to keep things traditional or do you wish to go the contemporary way with modern and sleek decorations? Whichever style you may choose, we have you covered!
We have listed together a bunch of different Christmas decorating ideas that will surely inspire you to get innovative this holiday season. From temporary décor, like trees, to permanent décor like tiles, here are some gorgeous ideas to give your home a makeover this festive season!
A Warm & Cosy Nordic Style Christmas Decor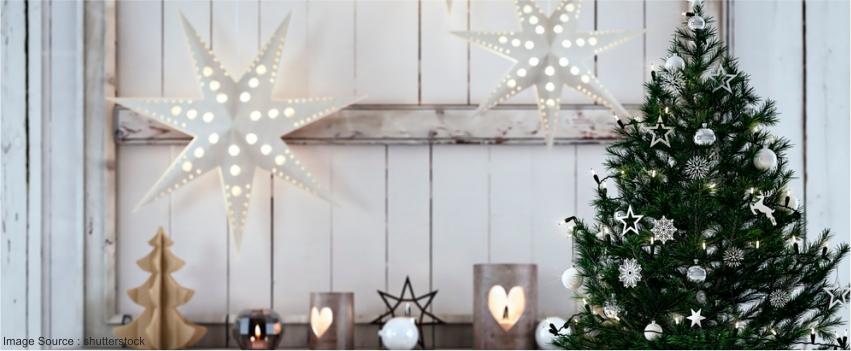 The Nordic Style Christmas trend is an ideal choice for those who believe in subtle decoration that adds a touch of comfort and warmth to the space. There are different ways to incorporate this look in your home. This look doesn't need to be complicated. You just need to make a few tweaks here and there to your regular Christmas décor and you are good to go. If you don't want to go wild with a large tree, opt for a small tree that is not too imposing on the space. White décor items, such as white ornaments for the tree, white LED lights, and white star-shaped lanterns can add a subtle and warm Scandinavian touch to your room.
If you wish to make a more permanent change to your décor, you can opt to change the tiles of your room since they're easy to upgrade. Orientbell Tiles' GFT BDF Natural Maple Wood tiles can give the room a soft look, and can act as the perfect backdrop to your Nordic-themed Christmas décor. The warm wood finish goes well with all kinds of colour and design themes and it is a look that will go with all your festive looks the whole year round!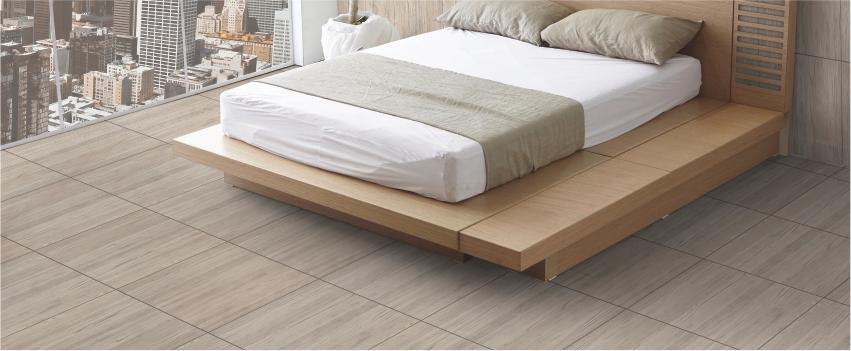 The True Blue Christmas Feel
If you are someone that enjoys a cool colour scheme that comes with a subtle pop of colour, the blue colour scheme would be an ideal choice for you. Blue is an extremely versatile colour which can invoke feelings of excitement, calm, tranquillity or brightness, all depending on the shade of the colour used.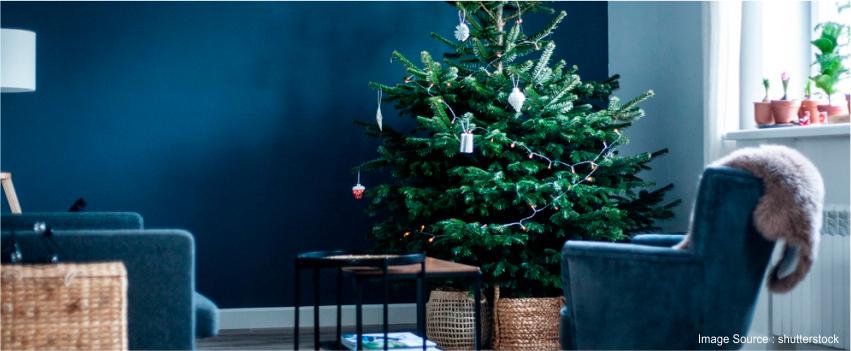 It is also a multi-faceted colour that goes really well with most other colour schemes, making it very easy to incorporate it into a theme. Traditionally, blue is not a Christmas colour, but blue is associated with the cold that comes with winter and helps bring to your warm home a chill that is usually associated with winter.
You do not need to go all out to add blue to your festive décor. You can add blue and silver baubles to your tree to add a wintery feel to the tree. Re-upholster a cosy armchair with blue textile to add colour to your room.
If you are looking to make this beautiful shade a permanent fixture in your room, might we suggest Orientbell Tiles' Picasso Blue Duro tile to create an accent wall in your room. Want to give your floors the blue treatment? Well, Orientbell Tiles' Super Gloss Wave Blue Tile can give your room a luxurious and regal look! These tiles work well in most rooms and can be combined with festive touches in a similar palette to give your home a true blue Christmas feel!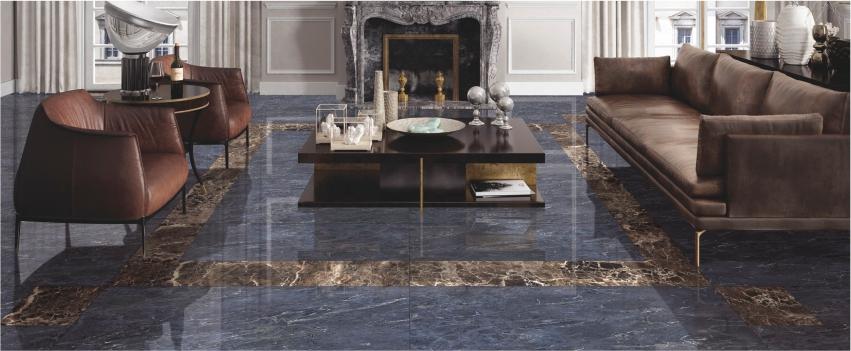 A Classy Winter Wonderland-Themed Christmas Décor
Let's face it, all of us have dreamed of a white Christmas sometime or the other. You may not get the white Christmas of your dreams, but what is stopping you from creating your own indoor winter wonderland? The answer is: no one and nothing! So this year if you are leaning towards creating the winter wonderland of your dreams, here are some tips to get you started.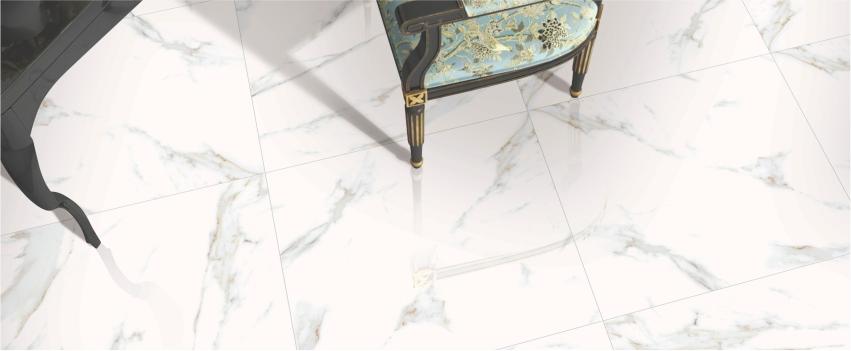 Start off by switching out your same old boring Christmas tree for a white one. Can't find a white Christmas tree? Spray paint your regular one; it is that easy! Add white and gold baubles to the tree to keep with the theme. Add white lanterns, white candles, and even white flowers that can create a uniform white decoration theme across all of your spaces.
Shining white tiles can also be incorporated in your interior to create a classy white backdrop for your winter wonderland. The Canto Ocean tile from Orientbell Tiles can adorn the floors as well as the walls of your room and provide you with crisp and clean interiors. Another Orientbell Tiles' product, the PGVT Makrana Bianco tile, can help give your space the opulent feel of marble. You can pair the tiles with moss green upholstered furniture or with sprigs of holly and other greenery to create an elegant space that exudes class.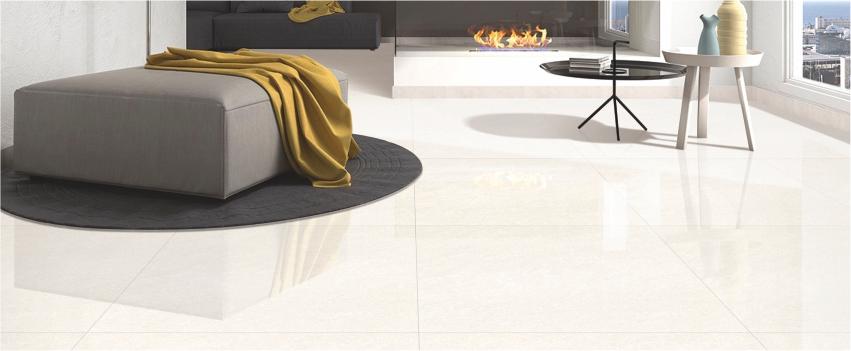 So there you have it, three completely different styles with three completely different looks that will inspire you to create the perfect Christmas look for your home this year. While these are just general ideas, you can create your own theme and style by mixing together two or more styles to create a style that is uniquely yours. You may opt for a white tree with blue baubles, or a Scandinavian tile paired with a blue rug – the world is your oyster!