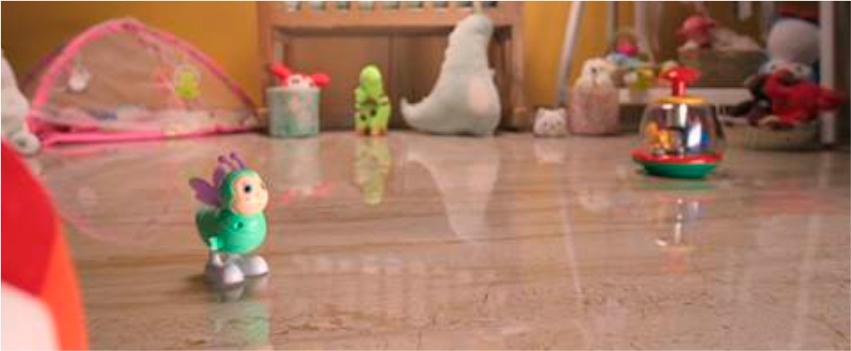 The nursery is the first room that a child experiences. It is the space that welcomes it to this world. That is why it's important that the nursery has a warm, inviting, and fun feel to it. The nursery is also the space where the child slowly starts becoming independent, from sleeping independently, playing and even walking. An ideal nursery should be full of items that will fuel a child's curiosity and imagination. While being a fun space, there shouldn't be any compromises on the functionality of the space.
In this blog we have rounded up a bunch of ideas that can inspire you to create the perfect, fun, and functional nursery for your little bundle of happiness.
Choose A Fun Light Source that goes well with the Decor
Say goodbye to the same old boring light fixtures and opt for a fun light fixture that will help set the mood for the room. It can be a funky hanging light, a colourful floor lamp or a quirky wall light. While choosing the light for the nursery, make sure that it isn't too bright and offers a subtle and comfortable glow to the room. Also, when you choose a light, keep in mind that the nursery will be a child's room in a few years, so the light fixture should be able to adapt well or be easy to replace.
Warm whites whose brightness can be adjusted are perfect fit for a nursery. You can also choose elements that are backlit and can act as night lights.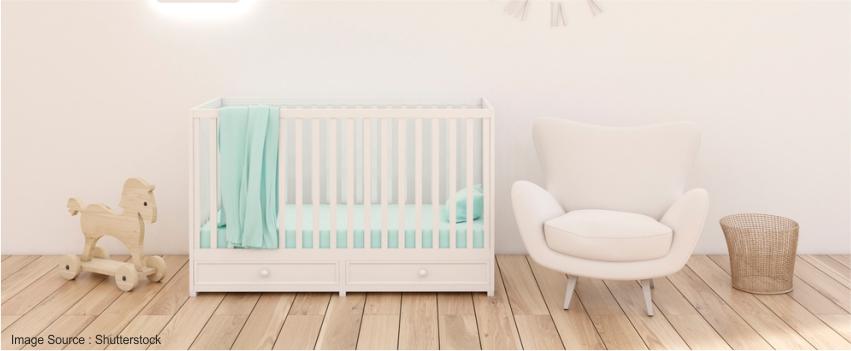 Create an Area Where You can Rock or Comfort The Child in Peace
Children, especially in their early months, require lots of comfort and cuddles. It can be back breaking to carry them out to the living room or your bedroom, in order to comfortably sit and rock the child. For this scenario, consider creating a small and comfortable seating area next to the crib. This could mean adding an armchair, a comfy love seat or even a cosy swing that makes rocking a breeze.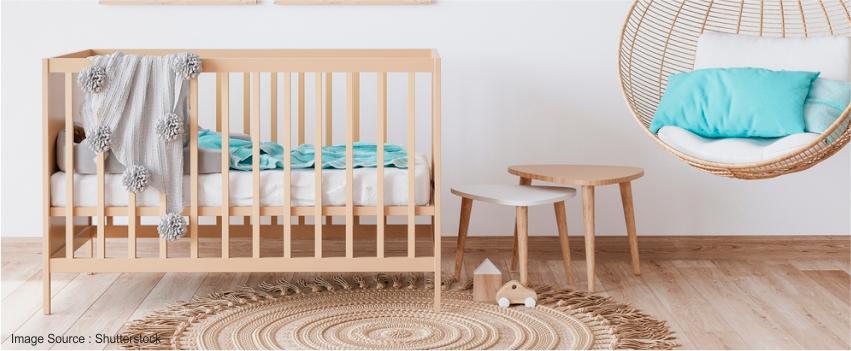 Create Cute Wall Accents
Add a pop of colour and texture to the room with the help of peelable wallpapers, odourless paint, and tiles. Accent walls are a fun way to highlight a particular zone without going overboard. Add an accent wall behind the crib for maximum impact.
Invest in Multipurpose Furniture
Furniture for babies can be expensive. Doing away with furniture, after just months of use, can be hard on the heart as well as the pocket. This is why you should always invest in furniture that can be repurposed easily. The crib can be used as is for the child to sleep, and once the child has outgrown it, the crib can be converted into a stylish sofa for the kid's room.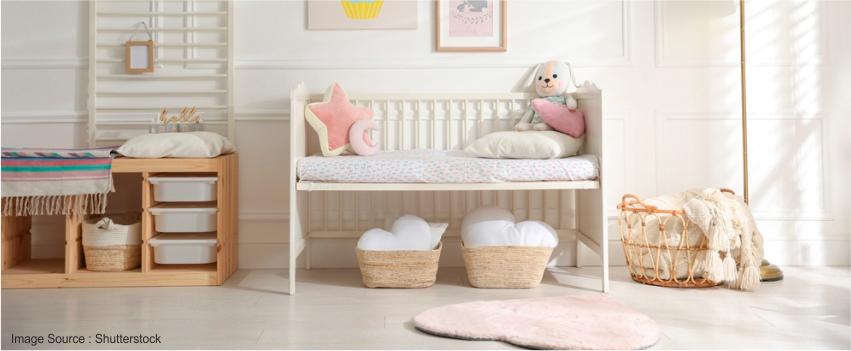 Create A Self-Sufficient Changing Area
If you don't have everything that you need in one place while changing the baby, you will end up running around. It is best to store all the changing essentials in a single place, around the changing table, to make diaper changes a smooth and problem-free experience. Add a small mobile toy over the changing area to keep the baby busy while you change them.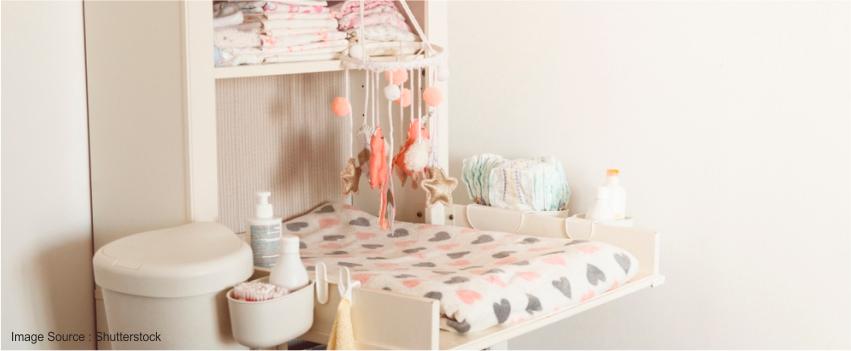 Go Wild with Colour
Gone are the days of a simple, monochromatic nursery. Add a pop of colour to the room with a beautifully painted wall and further accent it with quirky stickers. A brightly coloured footstool can also do wonders to the aesthetic of the room. If you don't want to go too bold with colours, you can add colourful throw pillows and blankets to add pockets of subtle colour to the space.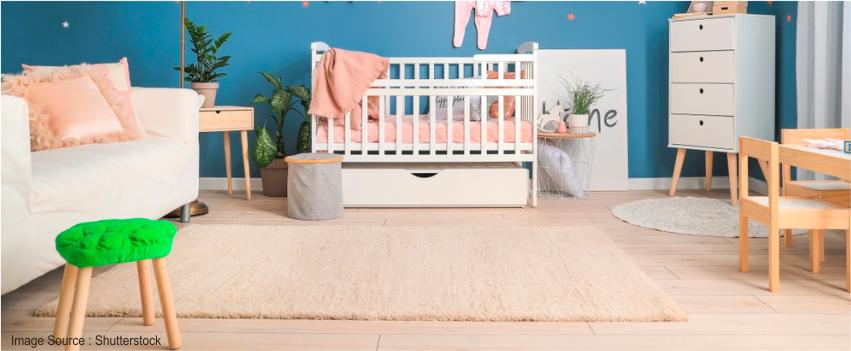 Add a Small Bookshelf
Make story time a lot more fun by adding a small shelf to hold all your child's favourite books. It does not need to be a separate shelf; it can be combined with the toy shelf for now. The open display of books also doubles up as a colourful design element for the room.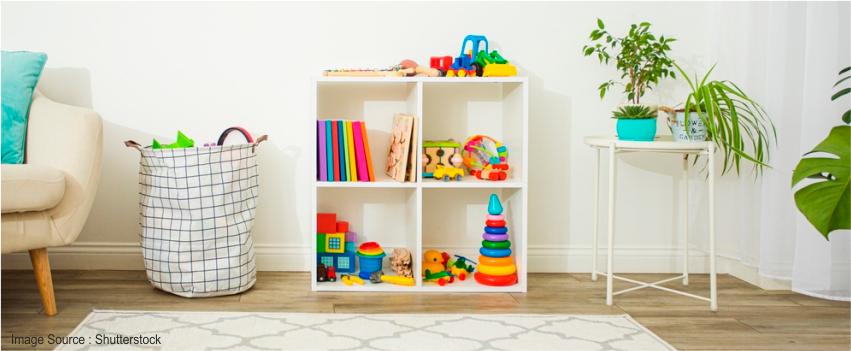 Plenty of Storage will be Required
You will be surprised by how many things a little human will need in a span of days. From diapers to clothes to lotions to toys, it all adds up! Make sure you add plenty of storage space to the room so that there is enough space to store all your child's belongings in one place.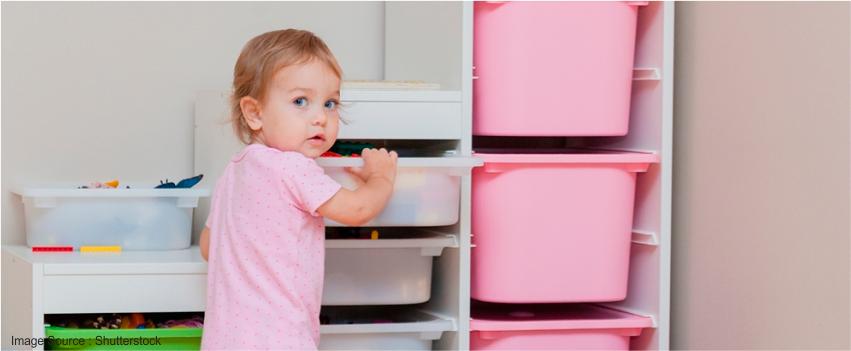 Create A Little Gallery Wall
Add a few framed pictures to create a cute gallery wall in the nursery. These can be cute illustrations of animals or fruits, meaningful quotes, or even pictures of family members. These frames can be interchanged often, and even upgraded with time quite easily, making them a very cost-effective décor item.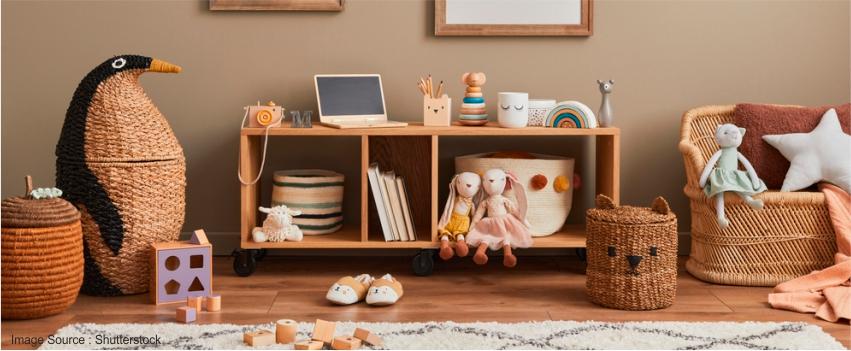 Add A Fun Mobile Toy
Mobile toys are an easy and fun way to keep the child engaged. The constant circular motion of these toys also helps them fall asleep easily. Mobile toys help add a touch of character and add playfulness to the room without coming across as too cheesy.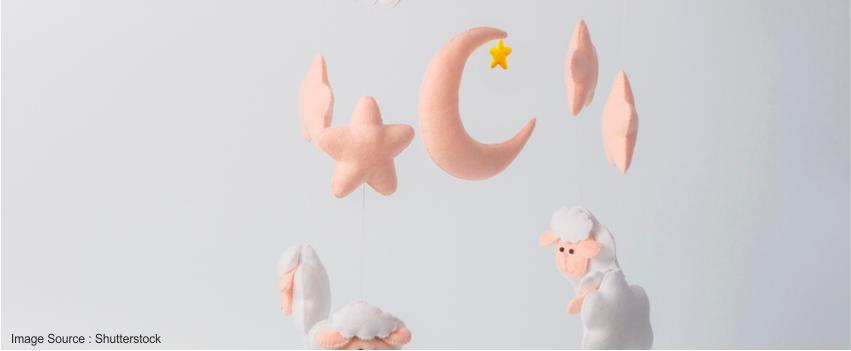 Make The Ceilings Eye-Catching
Let's face it: in the first couple of months, all your child is going to be doing is lying on his or her back, staring at the ceiling. Mobile toys can be eye-catching, but how about creating an interesting ceiling for them to look at? Adding décor to the ceiling draws your eyes upwards and creates an unexpected yet pleasant-to-look-at scene.
Decorating the perfect space for your child can be a tall order. With excitement and hormones at their peak, making the correct decision for your space might feel very difficult. We hope some of the tips mentioned in this blog help you create the nursery of your dreams.