Kitchen Tiles vs. Bathroom Tiles
Two spaces in any household that are considered very important due to heavy footfall or excess wear and tear are the bathroom and the kitchen. Tiles are considered the best option for these spaces in modern times because of their robust, water-resistant, and easy-to-maintain properties. Tiled bathroom and kitchen floors are relatively easier to clean, durable, and free from stains or smudges from other flooring options.
Although both are wet areas of your house and the prerequisite for both the areas is identical, however, do not get tempted in the first place to ponder over any type of tile that will do the needful for your kitchen to be equally good for your bathroom as well. The same tiles may be used in both places, but they may not function as well and efficiently because the practical usage and requirements of both places are not the same.
Apart from functionality, the aesthetic requirement is also different for both spaces. The kitchen tile designs are also different from those of bathroom tile designs. Though you may find some tile designs that can be interchangeably used for the bathroom as well as the kitchen. However, modern tiles are designed keeping in view the aesthetic appeal of the particular space. Therefore, there is a difference between the tiles used inside the bathroom and kitchen. With the enormous range available, choosing the right type of wall and floor tile for your modern bathroom and kitchen is easier said than done.
So, let us explain to you the difference between the kitchen tile and the bathroom tile for its floor and walls.
Kitchen Tiles
Kitchens are no longer a place to just cook food. They have evolved as a style statement, hence they require tiles that not only enhance the look of the household but at the same time are also highly practical.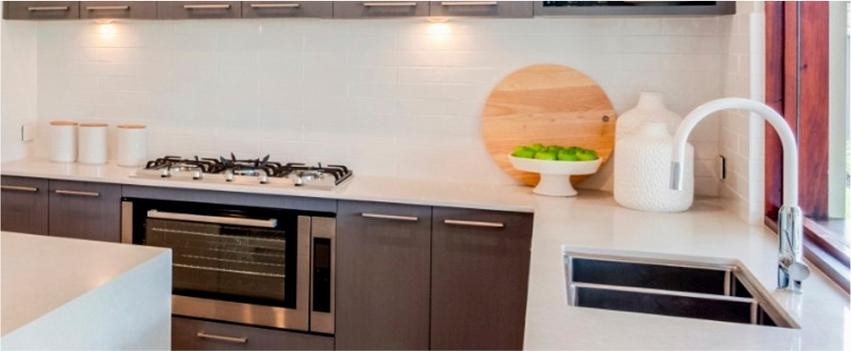 As the kitchen is the busiest place in any household, you should vigilantly select your kitchen tiles. If you also have a modern open layout kitchen space where your family hangs out, entertains, do lots of cooking and eating, generally spend a lot of time together making memories, then you should be careful while selecting tiles for your next revamping project, making sure your kitchen floor tiles are designed in a way to bear heavy foot traffic.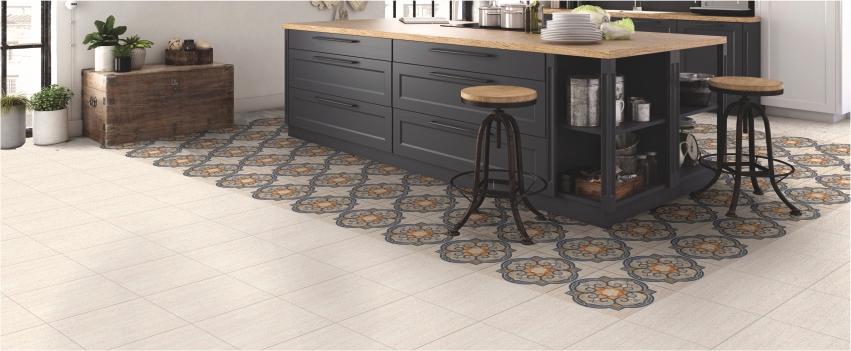 The kitchen is also an area that is more prone to oil stains, food spills, splashes and smudges, on an everyday basis. That oil built-up and dust accrual to it can give you the worst nightmares while cleaning. Thus carefully choosing the right kind of kitchen floor tile and the tile for kitchen walls is always recommended. It is always suggested to stay away from porous materials as the cleaning process is quite tough for them. Instead, you can go for tiles that are less or non-porous as they are much easier to maintain and clean and are durable too.
For a modern kitchen, large size kitchen floor tiles are better than small tiles. The straight laying pattern of the tiles is preferred to hold the design elements inside your kitchen altogether.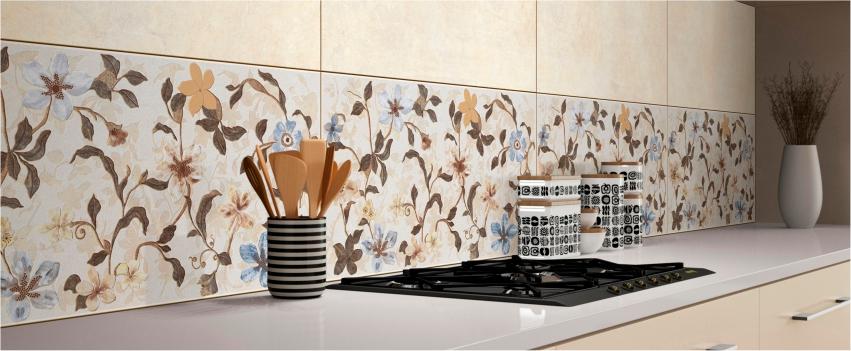 You can also have the tile on the walls of the kitchen and the backsplash, well synchronized with your kitchen floor tile design. For your kitchen backsplash, you can always consider ceramic tiles, Vitrified tiles, or marble tiles as they are the new normal for your modern kitchen. These tiles require less maintenance and can very easily correspond to your existing floor and wall tile design, and give your kitchen a chic finish.
Bathroom Tiles
A bathroom, in any household, is the most humid and wet area. It is the most exposed area to heavy water flow, stains, and smudges which make it important to choose the right bathroom floor and wall tile. The bathroom flooring tiles must meet two conditions: they should be water and moisture resistant and number two,they should not be slippery.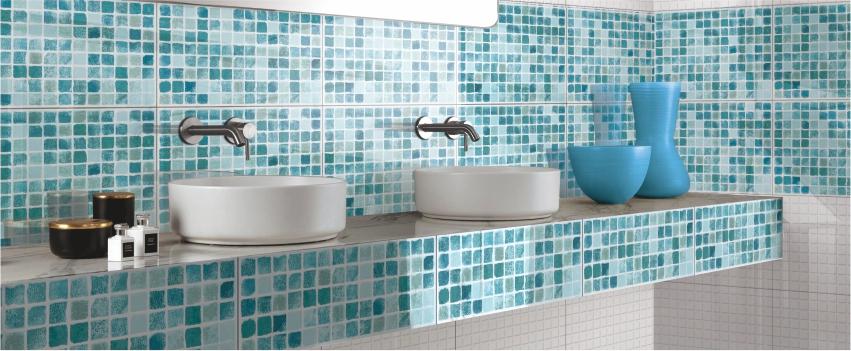 The bathroom is a very closed and wet space, so you need some tiles that are non-porous and do not absorb water or moisture. If tiles are unable to provide this essential feature, water will penetrate inside, giving rise to bacteria and fungus growth. It will also loosen the tiles which will gradually result in severe tile damage.
With all that water and soap splashes, there is a potential slip-hazard in bathroom spaces. Therefore, the bathroom floor tiles should not be slippery to prevent accidents from occurring, hence matte finish and anti-slip tiles are recommended for this space. However, the use of beautiful mosaic tiles as a wall tiling option is in trend, and have no match, as they have good PFI ratings for being non-absorbent and anti-skid features.
Unlike kitchen floors, the small size of bathroom floor tiles should be used, as bathrooms are relatively smaller and cramped places. Small tiles will ensure design harmony.
But if you want to enhance the look of your small bathroom and make it look bigger, in that case opt for big-sized tiles in neutral or lighter tones. This will make your bathrooms appear bigger.
You should pay attention and go for water and moisture-resistant tiles for walls and backsplashes. A bathroom is relatively smaller in size than other rooms so, to enhance the look and feel you should choose tiles that are small in size to get a homogenous appearance. A plain and simple tile pattern on your bathroom wall will give the much desired ultra-clean look which can be reversed by using colourful highlighter tiles.
Explore the huge range of kitchen tiles and bathroom tiles at Orientbell, especially crafted for the aesthetic and functional requirements of your precious spaces.