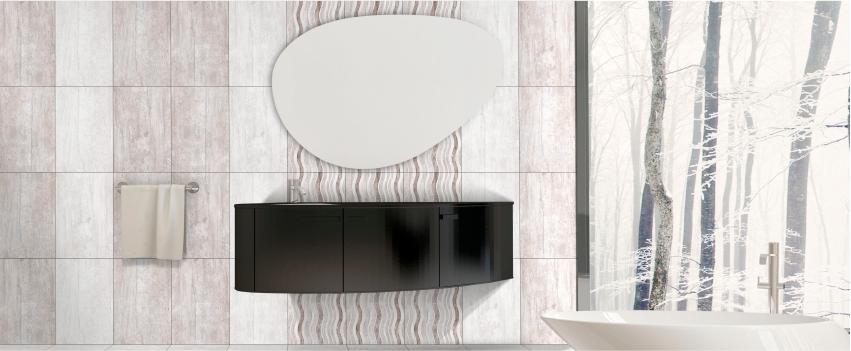 Marble is a natural stone that provides a look of elegance and originality to any space it is installed in. It is a timeless material that has been used for centuries to give off an aura of luxury by architects and interior designers across the globe. From monuments to sculptures to luxurious interiors, marble is a versatile stone and can be used everywhere. It can create a traditional yet minimalistic look that can make any space look elegant.
That said, marble is a difficult surface to maintain since it is porous and gets stained easily. This makes it a tricky material to use in spaces where there is a lot of water usage, such as the kitchen and bathroom, and even where there is occasional water spillage, such as the dining room.
But what if we say that you can get the grand marble look to your home without the hassle of maintaining it? Well, that's possible with the installation of marble look tiles. Orientbell Tiles has a wide range of marble look tiles, which not just provide you with the look of opulence that is characteristic to marble, but also come with the added durability and strength of tiles. These tiles are easy to maintain, non-porous, and do not stain easily.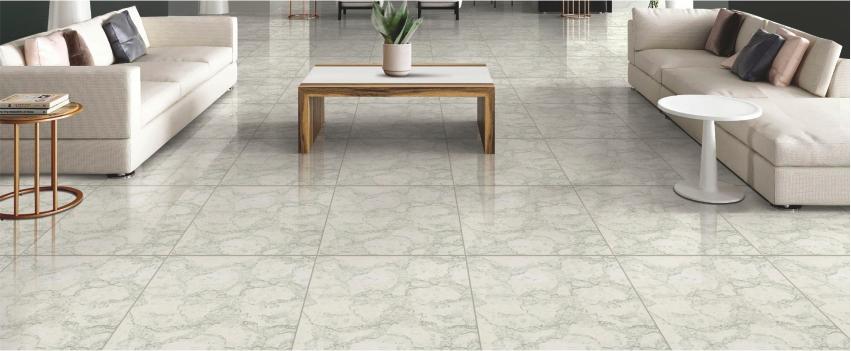 Let us look into the advantages of using marble tiles in your house.
Versatility:
Marble tiles are extremely versatile and can be used both on the floors as well as on the walls. They can also be used in any space, such as living room, dining room, kitchen, bathroom, study or prayer room. You can use PGVT Amazon Botticino tile from the Bottochino collection of Orientbell Tiles to add an earthy hue to your kitchen or your bathroom. You can even use white marble tiles, such as PCG Bottatchino Light from the same collection, to give your living room a cool and sleek aesthetic.
Marble Tiles are available in vitrified, ceramic and double charge variants in both matte and glossy finish making them suitable for all spaces be it residential or commercial.
You can explore the range of Orientbell Tiles' marble tiles here.
Not just this, these tiles are available for both floor and walls and in multiple sizes to suit your space and style.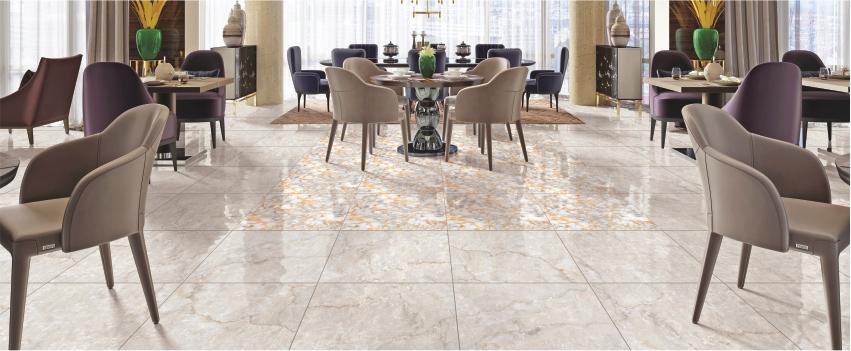 Wide Range Of Colours:
Generally speaking, marble tiles usually have veins running through them which give them a unique look. This means that no two tiles are identical to look at. In addition to this, the colours and designs that are available are varied. For example, white marble tiles usually have streaks of grey running through them that give them an almost luminescent quality. On the other hand, cream-coloured marble tiles impart a warm and comforting look.
From beige to brown, from cream to ivory, to a sturdy slate grey, you can find all the colours in our scratch-resistant Travertine marble tiles collection. ODG Vintage Brown works perfectly well in kitchens and is extremely easy to maintain since it doesn't stain easily. Create a dark kitchen backsplash against a cream marble wall or use a few pieces as highlights in a chequered pattern, and the space is bound to attract attention!
If you are looking for marble floor tiles to add some oomph to a serene balcony, the Rocker Travertino Gold tile should be your choice. With its earth-like hue, it adds a natural look to your space without feeling too overwhelming.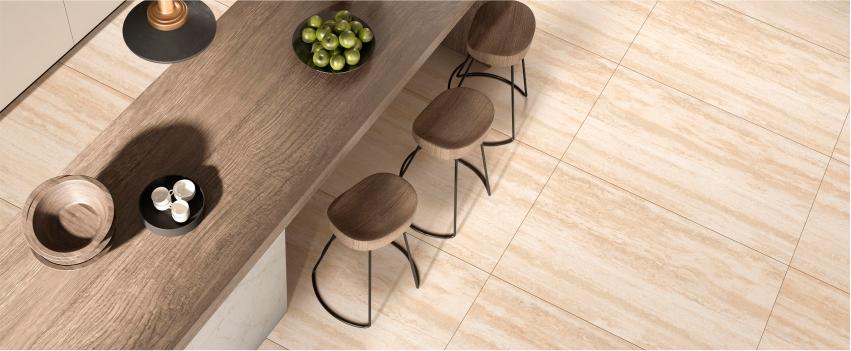 Easy To Clean:
Maintaining a natural stone like marble is a huge task. You need to seal it regularly to ensure that there is no water damage. Marble tiles, on the other hand, do not require a lot of maintenance. A swipe of warm soapy water here and there and you are good to go. Struggling with stubborn stains that won't go? Hit it with some lemon, water, and a soft brush and see it disappear. Yes, it is that easy to maintain marble tiles! Just make sure you do not use abrasive materials to clean the tiles as it can harm their surface.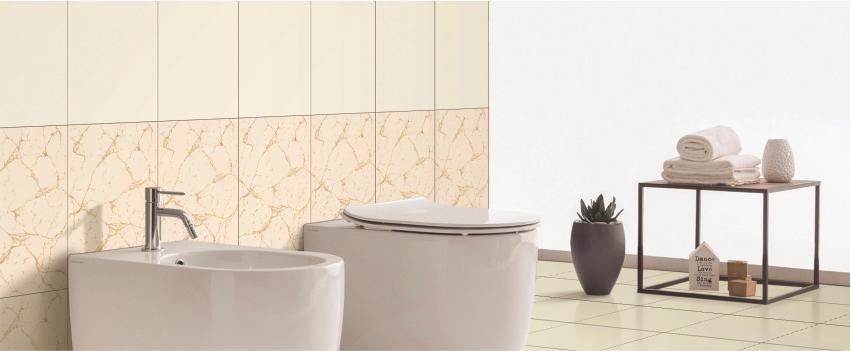 Durability:
Marble tiles are highly durable and with proper maintenance and handling, they can last for a lifetime. As opposed to natural marble, which tends to get a yellowish tinge after a couple of years of use, marble tiles stay the same for years and years if they are cleaned well periodically.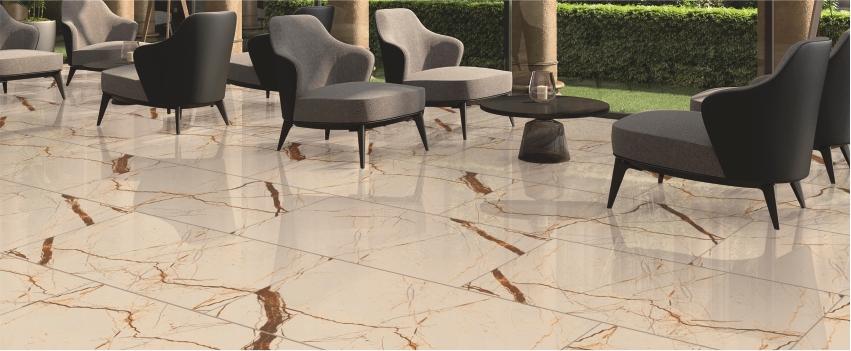 Durability however also depends upon your usage. You can choose from the Inspire range of vitrified tiles that comes in multiple marble variants for your residential, office spaces. Double charged tiles work well for spaces that will see a heavy footfall, you can check out the Zenith and River collection double charge range that comes in mesmerizing marble patterns.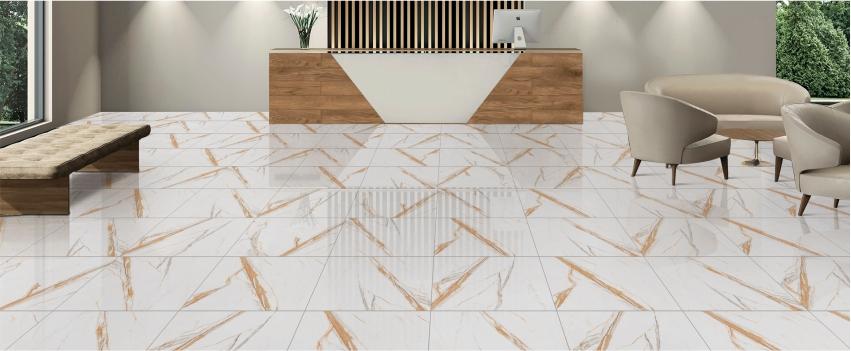 Elegance And Beauty:
It goes without saying that marble helps add an extravagant aura to any space it is installed in. That is why marble never goes out of fashion and is always in demand. The luminosity, the veins, and the finish give the space a touch of distinction that is incomparable. In addition, this material helps provide the room with a sense of spaciousness and unparalleled elegance.
Orientbell Tiles' ODH Arona Brown Multi HL, for example, can be used to create an elegant feature wall in your study. The eye-catching marble finish in multiple colours injects a playful energy to the room, while keeping things subtle and sober.
As you can see, marble is an unchanging and stylish material which tends to pair very well with all sorts of designs and aesthetics, be it traditional, contemporary or a fusion of both. Marble tiles can be used in almost any part of your home. You will find your favourite design and colour if you go through Orientbell Tiles' huge collection of marble finish tiles. And, they will fit right into your budget.